Landscapes that are tired and outdated send a message.
Older landscaping that has been installed 20 years or more ago tell a story – especially with certain varieties of trees and plants that show their declining age. Landscape curb appeal can make a positive impression of your property by improving tenant retention, relations and your properties curb appeal.
Improve Your Commercial Property Landscaping
Several studies have shown time and time again that there is a correlation between physiological behavior based on exterior landscaping and its architecture. Some commercial property landscaping includes designs that stimulate the mood, while others seem to calm human behavior. For example a towering row of hedges may create a closed in sensation in some, while the sound of calm flowing water can relax and sooth.
Some of the latest trends in commercial and retail landscaping feature less dense groups of plants that offer space between the plants, lowering the need for increased landscape maintenance. Landscape designers are shifting to a simpler layout allowing plants to grow and develop into their natural shapes. Also, it has become costly to maintain traditional lawn, as a result less grass is being used, which helps reduce the cost of commercial landscaping while preserving our natural resources.
Renovating a tired looking landscaping doesn't have to be a large installation. As we know, the architecture of buildings may change over time, and Commercial Landscaping companies can update the flow of the property with a new feel and look.
Here are five things you can start to implement, that are aesthetically pleasing to the eye and keeps pace with the latest bay area trends:
Reducing maintenance includes replacing sheared plants.
Some plants like Heavenly Bamboo that is planted in a natural formation offers a softer less sculpted look. Consider pruning tall over crowded shrubs or replace them with soft foliage plants that don't require frequent hedge trimming. Also, consider removing trees that are damaging understory landscaping allowing that may otherwise thrive.
Retail Landscaping Companies Use Substrate Materials.
A Retail landscaping company might consider including substrate materials like gravel or rock for many reasons including its ability to withstand foot traffic and curbs water use. Consider installing a dry creek bed with some natural boulders in low drainage areas that collect water and consider using permeable materials like pavers or gravel as opposed to concrete pavement, crushed decomposed gravel is a great choice for a walk way or path.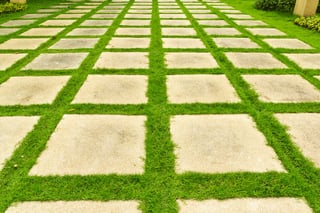 HOA Landscaping includes Mulch
Some HOA Landscaping companies include permanent mulch in there landscaping for many reasons including its ability to withstand erosion from rain and it holds up well to foot traffic. Also, colored mulches have become a popular trend that helps create or more natural landscape.
New Plant Cultivars for Outdated Properties.
Landscaping maintenance services may decide to exclude the use of English boxwood hedges, Escallonias and Euryops since are no longer the in thing to use. Architects have shifted gears by using natural plantings of grasses and perenials that exhibit a softer look.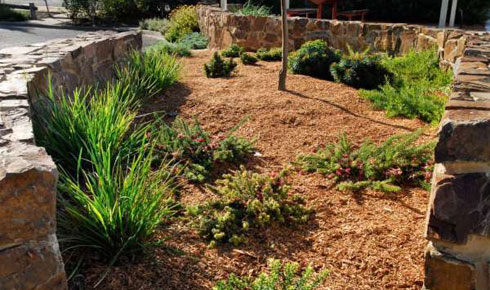 Naturalize Your Landscaping.
Commercial property maintenance must avoid the mistake of hedge row plantings that are symmetrical requiring constant shearing that increase commercial landscape maintenance costs. A naturalized planting of chondropetalum or juncus grass is more appealing that a row of shrubs that has been clipped into round or square shapes. The use of substrate gravel or rock has also become a popular trend amongst landscape designers, this type of landscaping reduces the amount of water that is needed helping to conserve.
Contact one of our certified landscape professionals for a free landscape evaluation. We can provide you with a landscape design that includes low maintenance landscaping.

Commercial Landscaping Services
FloraTerra provides commercial office landscaping , multi-residential landscape management services, retail landscaping in and around the south san francisco bay area. Our commercial landscape maintenance includes a complete range of services appropriate for sustainable landscape design, landscape water management , Retail Mall Landscape Management, R & D Landscape Development, Luxury Apartment and Condominium Landscaping, Residential Estate Landscaping, HOA Community Landscaping Services for Multi-Building Developments, Commercial Office Park Landscaping and Corporate Campus Landscaping. Our landscape service territory extends throughout the greater South San Francisco Bay Area.
ABOUT FloraTerra Landscape Management
FloraTerra of Silicon Valley and its affiliates, are based in San Jose, California. As a leading landscape maintenance contractor for commercial and multi-residential properties, since its origin the company and its affiliates have installed and maintain some of the most prestigious properties throughout the san jose and greater bay area. For more information about FloraTerra please visit us at: http://www.floraterra.com.
San Jose | Santa Clara | San Francisco Bay Area | Fremont | Sunnyvale | Milpitas | South Bay