8 Common Pruning Mistakes
Proper pruning enhances the Natural beauty of almost any commercial landscaping service, while improper pruning can ruin or greatly reduce its landscape potential. By using improper pruning methods healthy plants are often weakened or deformed.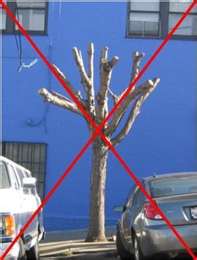 Mistake 1: Tree topping. Plants that might grow too large for the site, are not entirely hardy, or become unsightly with age should be used wisely and kept to a minimum in the landscape plan. The exceptions are trees that require to be pruned in light of Safety and Clearance; however the pruning technique would be selective using the appropriate technique called Reduction Cut Pruning.
Mistake 2: Cutting branches flush to a tree trunk. If you cut branches flush to the trunk -- or flush to an intersecting branch -- decay penetrates the trunk, reducing the life span of your tree.
Mistake 3: Pruning or Hedge trimming every shrub into a round or rectangular shape. Try to avoid destroying the natural shape or growth habit when pruning.
Mistake 4: Trimming water sprouts. Pruned plants sometimes develop water sprouts -- ugly, twiggy upward growths from spots where branches were cut.
Mistake 5: Cutting off branches that are too large in diameter, this can permanently damage a plant or tree.
Mistake 6: Using hedge clippers or Power Hedge Trimmer Machines. These clippers trim the surface of a plant, which is appropriate only for hedges. Power hedge clippers, in particular, should be used only on hedges because they can do a lot of damage. Use real pruning tools which include bypass hand pruners and a pruning saw.
Mistake 7: Heavy pruning during times of harsh weather. Spring is usually the best time for heavy pruning. In general, it's best to prune flowering trees and shrubs soon after they flower.
Mistake 8: Pruning Evergreens
With few exceptions, tree pruning in the San Jose Bay Area region may vary slightly, however generally speaking, evergreens (conifers) require little pruning. Different types of evergreens should be pruned according to their varied growth habits. If you want to promote more dense growth, remove up to two-thirds of the length of newly expanded candles. Don't prune further back than the current year's growth.
Leave It up to one of Our Certified Rock Stars!
Regardless if you own a Retail Shopping Center, or manage a portfolio of luxury apartment buildings, FloraTerra is very experienced in the area of commercial landscaping and tree pruning, If you manage or own a property in the San Francisco Bay Area, let us help you with your landscaping project.
FloraTerra provides tree and commercial landscaping services in and around the Silicon Valley & San Francisco Bay Area, we design, install and maintain landscaping for business parks, Hospitals, and Hotels. We provide a complete range of landscaping and water conservation services. Some of our landscaping services include smart irrigation controllers and landscape installation / care. We serve a variety of markets including: hoa landscaping services, Home Owners Associations, Commercial Office Properties, Retail Shopping Centers & Malls, Industrial R&D, Condominium Landscaping Services, Public & Municipal Properties and Large scale corporate campus type properties.