With California coming out of an unprecedented drought along with the high cost of water rates, commercial property landscape services have been under the radar for some time now. With commercial lawn care services being targeted as being wasteful.

How to Save Money on Watering and Have a Green Property
With the drought in the bay area there is a continued focus on traditional watering methods with advancements in research and technology, there exists a variety of products and techniques that can be implemented to dramatically reduce water use. There are four distinct categories where water savings can be achieved; water management, turf grass selection and cultural practices.
As a Bay area water management company, a commercial landscaping company can achieve significant water savings by utilizing the advanced technology available today. If your sprinklers are currently on a timer it is time to consider converting to a new "smart" water system. These are advanced timers that are connected to a small weather station. The timers are then programmed with other data such as the type of sprinkler head, slope, exposure, soil type, plant material, zip code and other factors. The system then takes into account the weather in the area with the programmed data and develops a watering schedule that applies water in the most efficient manner. It is easy to convert a standard sprinkler timer to a smart system and the payback on investment is immediate and can be significant. As an added bonus, many water utilities offer incentive or rebate programs for converting to a smart system. Check your water utility website to see if any promotions are being offered.
The Sprinkler Nozzle
It's commendable for a commercial landscape maintenance company to set their target on water savings with the new sprinkler nozzles that are available. Recent advancements in nozzle design produce water droplets of greater size that reduce misting and evaporation and put the water where it is needed. Depending on the type of sprinkler heads that you have, it may be very simple to switch older, less efficient nozzles for the newer efficient types. If not, then it is probably time to replace your sprinkler heads that contain the new types of nozzles.
Do a Water Audit
Finally, a commercial landscape service can do an audit of your sprinkler system, making sure all heads and nozzles are working properly. All heads and nozzles get dirty and need to be cleaned periodically. Also make sure that the lawn is getting uniform coverage. This is critical for achieving water savings. Efficient sprinkler coverage ensures optimal sprinkler run times and saves water. Consider replacing any sprinkler heads that are not 4 inch pop up. 4 inch heads are ideal in that they clear grass height sufficiently to avoid spray blockage.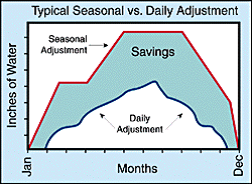 Daily Watering Adjustments According with Local Weather
An HOA Landscape Service can save there clients lots of money on water. It starts with having a smart irrigation system replacing the standard controller. In addition to smart watering systems, it is critical that regular adjustments are made to your irrigation system, especially making adjustments to account for seasonal changes in the weather, noting that smart controllers do this on a daily basis. The ideal time to water is early morning between 2 A.M. and 7 A.M. It is important that timers be set to water deeply but to avoid runoff. Watering deeply encourages roots to grow deeply thus increasing drought tolerance. Frequent light watering should be avoided as it promotes a shallow root system.
From water management services to smart watering systems, FloraTerra has expert water managers that are ready to take the appropriate action on your sprinkler repairs and water management upgrades, customized to each client's landscaping and budget.
Get a Copy of Our FREE Landscape Vendor's Guide

FloraTerra provides commercial lawn mowing, multi-residential landscape management services, retail landscaping in and around the south San Francisco bay area. Our corporate lawn care includes a complete range of services appropriate for sustainable landscape design, landscape water management , Retail Mall Landscape Management, R & D Landscape Development, Luxury Apartment and Condominium Landscaping, Residential Estate Landscaping, HOA Community Landscaping Services for Multi-Building Developments, Commercial Office Park Landscaping and Corporate Campus Landscaping. Our landscape service territory extends throughout the greater South San Francisco Bay Area.
ABOUT FloraTerra Landscape Management
FloraTerra of Silicon Valley and its affiliates, are based in San Jose, California. As a leading commercial landscaping service for office and multi-residential properties.Since its origin the company and its affiliates have installed and maintain some of the most prestigious properties throughout the San Jose and greater bay area. For more information about FloraTerra please visit us at: http://www.floraterra.com.
San Jose | Santa Clara | San Francisco Bay Area | Fremont | Sunnyvale | Milpitas | South Bay