Managing and training personnel to maintain landscaping with horticultural fundamentals is the key to long term vigor and the appeal of plants and trees. Personnel should be trained on the proper way to edge the lawn at the base of trees in turf.
In commercial lawn maintenance, one of the ways we protect the health of trees is to ensure that there is a clear cut tree well around the base of each tree. There are not only aesthetic reasons of why tree wells should be in one's landscape, as the tidy circle around the tree provides a nice contrast to the surrounding grass, but most importantly for tree health reasons.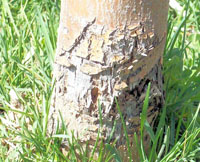 Mechanical Equipment Damage to Tree trunk
The tree well in hoa community landscaping protects exposed tree roots from damage by lawn mowers, power equipment and string trimmers. The visual ring created, as well as the added space between the tree and the grass, helps protect the tree, the inner bark, roots and cambium near the soil line from damage; as damaged roots and bark make trees more susceptible to disease, which invites insects, fungus and other harmful pathogens.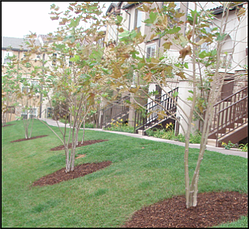 Drought Friendly Landscaping
Mulching tree wells in commercial landscaping is also about maintaining the trees health and vigor. In sustainable landscape designs, Mulch retains moisture for tree roots, keeps weeds suppressed, and is also an inhospitable substrate for weed seeds that may otherwise crop up at the base of the tree. The diameter of the mulched area surrounding the tree base should extend as far as roots are visible, usually 18"-36" in Diameter depending on the tree size, age and species. Mulch should not, however, be mounded on top of exposed roots because moisture trapped by the mulch provides an ideal environment for root rot (fungi).
In the area of commercial landscape management, a tree well is the best thing you can do for a tree in a lawn to ensure proper health. The best advice is to carefully remove lawn from around the base of the tree and replace with a decorative mulch to create a well-defined tree well, as shown in the photo at the top of the page.

FloraTerra provides commercial office landscape service, retail mall landscape service, in and around the bay area , providing a complete range of services, including sustainable landscape improvements, landscape water management for Shopping Centers, Retail Mall Landscaping, R & D Developments, Luxury Apartment Landscaping, Residential Estate Landscaping, HOA condominium Landscaping Company, Condominium Developments and Commercial Office Park Landscaping Company, Corporate Campus Landscaping. We provide services throughout the greater bay area.
ABOUT Our Commercial Lawn Service
FloraTerra of Silicon Valley and its affiliates, are based in San Jose, California. As a leading contractor and landscape Maintenance Company of commercial and multi-residential properties, since its origin the company and its affiliates have installed and maintain some of the most prestigious properties in the bay area. For more information about FloraTerra please visit http://www.floraterra.com.
San Jose | Santa Clara | San Francisco Bay Area | Fremont | Sunnyvale | Milpitas | South Bay