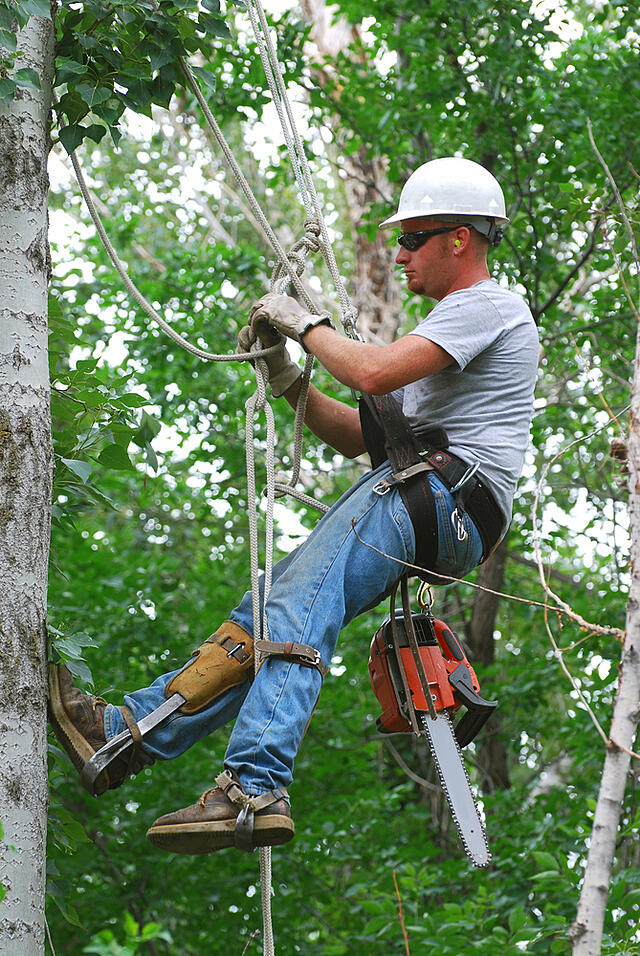 Commercial tree pruning can help save you time and money because its healthier for your trees and provides a better image of your property.
Fall and Winter is a great time for commercial tree care on your property because it's healthier for your trees and hoa landscaping.
1. Trees are better pruned in the cooler months
2. The moderate temperatures are more suitable for extensive tree pruning
3. Infectious disease and insects are less prevalent in the fall and winter
4. Tree pruning in the colder season is less impact on surrounding landscaping
5. During the summer months, trees expend a great deal of their stored energy in order to manufacture new foliage, fruit and flowers.
6. Tree care can be less expensive if planned correctly
When the weather is favorable, trees are flowing with nutrients and water during their peak growing season and exert a tremendous amount of energy producing new foliage, buds and flowers. The removal of large tree limbs should be done in the winter months when the tree is dormant and less active; the weather contributes a vital role in the health and recovery of a tree & should dictate the appropriate timing for tree care operations. According with some commercial tree trimming services, extensive pruning during the drought when the tree is in a state of decline can cause further damage eventually killing a tree, that is why it's essential to have your tree trimming performed by a commercial tree pruning service that can perform heavy tree pruning in the dormant months of the year.
Limit Your Plant Replacements
A well managed commercial grounds maintenance service understands that heavy tree pruning during the active growing season can promote and cause the development of infection or bacteria in the fresh tree wounds, but are not as likely to develop during the dormant season. Care should be taken when pruning, the adjacent under story landscaping and surrounding plants may include expensive evergreen plants & perennial flowers that are easily damaged with falling tree branches. Winter months during peak dormancy help plants recover when damage occurs.
Favorable Pricing For Property Management Budgets
From a budgeting perspective, a commercial landscape contractor can provide favorable pricing & expedited service when scheduling your tree care in the winter months. We generally offer discounted pricing to keep our crews working steadily through the season and give our clients an opportunity for discounted rates.
Aside from the 6 reasons above, winter is a great time to schedule a FREE Tree Care Evaluation with one of our Certified Arborist. With the tree in full dormancy, our Arborist have a clear view of the structure of your trees and can inspect for defects or safety issues.
Call a Professional Who Cares!
Call a professional home owners association landscaping company that has the track record, qualifications and business acumen to provide the best possible HOA Landscape Service. Schedule a FREE assessment of your Landscaping or Call 408.275.1200 today to schedule your FREE Tree Care Evaluation!
FloraTerra provides multi-building landscaping services for apartment landscaping types in and around the bay area , providing a complete range of services, including sustainable landscape improvements, landscape water management. We also maintain landscaping for Shopping Centers and Retail Mall Landscaping, R & D Developments, Luxury Apartment Community Landscaping, Residential Estate Landscaping, HOA Condominium Landscaping , Town Home Developments, Commercial Office Park Landscaping , Corporate Campus Landscaping, Industrial Park Landscaping. We provide services throughout the greater bay area.
ABOUT FloraTerra Landscape Management
FloraTerra of Silicon Valley and its affiliates, are based in San Jose, California. As a leading contractor and landscape Maintenance Company of commercial and multi-residential properties, since its origin the company and its affiliates have installed and maintain some of the most prestigious properties in the bay area. For more information about FloraTerra please visit http://www.floraterra.com.
San Jose | Santa Clara | San Francisco Bay Area | Fremont | Sunnyvale | Milpitas | South Bay