Reduce Energy Costs
It is possible to achieve as much as a 30% reduction in cooling and heating costs through careful landscape planning. Landscaping can reduce direct sun from striking and heating up building surfaces. It can prevent reflected light carrying heat into a building from the ground or other surfaces. By reducing wind velocity, an energy conserving landscape slows air leakage in a building structure. Additionally, the shade created by trees and the effect of grass and shrubs will reduce air temperatures adjoining the building and provide evaporative cooling.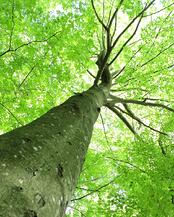 The use of dense tree and shrub plantings on the west and northwest sides for a hoa property landscaping for example will block the summer setting sun. This is the most effective landscape planting strategy. Additional considerations include the use of deciduous trees on the south side of the buildings wall or windows that will admit summer sun; evergreen plantings on the north side will slow cold winter winds; constructing a natural planted channel to funnel summer cooling breezes into the structure.
Trees are primary in an energy conserving landscape
Trees can have a canopy large enough to shade roofs, reducing cooling costs and increasing interior comfort.
The best locations for deciduous trees are on the south and east sides of a building. When these trees drop their leaves in the winter, sunlight can reach the building to help in heating the building. Note: Even without leaves, trees can block as much as 60% of the sun, making placement of trees critical to effectiveness.
Evergreen trees on the north and west sides afford the best protection from the setting summer sun and cold winter winds.
Tree Selection
If large trees need to be planted, it is best to select trees that have a moderate growth rate rather than fast growing varieties. Moderate growing varieties are sturdier against storm damage and generally more resistant to insects and disease.
When tree planting, if you should decide to plant a medium to large size, it should be located 15 to 20 feet from the side of a building and 12 to 15 feet from the corner. Smaller trees can be planted closer to a building and shade walls and windows to help reduce energy costs.
Shading Utility Equipment
Shrubs or small trees can be used to shade split air conditioning or heat pump equipment that sits outside. This will improve the performance of the equipment. For good airflow and access, plants should not be closer than 3 feet to the compressor.
Evergreen shrubs and small trees can be planted as a solid wall at least four to five feet away from the north side and provide a windbreak. However, it is better to have dense plantings further away so air movement can occur during the summer.
Need help Reducing Your Carbon Foot Print?
Leave It up to one of Our Certified Rock Stars!
Regardless if you own or manage a Shopping Center, or have a portfolio of luxury apartment buildings, FloraTerra is very experienced in the area of commercial landscaping, If you manage or own a property in the San Francisco Bay Area, let us help you with your next silicon valley landscaping project.
HOA Landscaping Services & Commercial Office Maintenance
FloraTerra provides commercial and condominium landscaping services in and around the Silicon Valley & San Francisco Bay Area, we design, install and maintain landscaping for business parks, Hospitals, and Hotels. We provide a complete range of landscaping and water conservation services. Some of our landscaping services include smart irrigation controllers and landscape maintenance. We serve a variety of markets including: Commercial Landscaping Services for Home Owners Associations, Commercial Office Buildings, Retail Shopping Centers & Malls, Industrial R&D, Home Owners Association Landscaping, Public & Municipal Properties and Large scale corporate campus type properties.
San Jose | Santa Clara | Milpitas | Palo Alto | Sunnyvale | Redwood Shores | Union City | Fremont