WHAT CAN AN ECONOMY FRIENDLY LANDSCAPER DO FOR YOU?
As a property manager, you are likely weighing up how to trim costs in response to today's economic turbulence. In times like these, choosing to partner with an economy friendly landscaper means having an ally at hand that can help you forge greater resilience. FloraTerra Landscape Management can deliver this through our Clean and Green® value engineered commercial landscape maintenance service, which allows us to cut costs by 30% to 40%!
It can be valuable to consider that many larger commercial landscape maintenance companies are accustomed to recovering their expensive overheads, and working with large landscape budgets. While the clients they serve may have previously had the discretionary income for larger landscape projects, many are likely rethinking their budgets today. This can mean a transition into unfamiliar territory for bay area commercial landscape contractors that don't have a meticulous resource management strategy in place.
To raise the odds of success, commercial real estate owners can be strategic with a series of cost cutting measures that aim to create a robust business model through a down economy and beyond.
Here at Flora Terra, we make a point of specializing in delivering cost-reducing solutions, and helping property managers just like you establish greater financial buoyancy. As you explore how to lower budgets, and ways to improve your bottom line, we are here to provide support through lower landscape costs. In order to succeed when challenge comes knocking, a judicious approach is the surest route to emerging triumphant! Commercial building owners, condominiums, homeowner associations and multi-family developers can make substantial savings on their corporate landscaping service by partnering with a commercial landscape contractor that provides value engineered, landscape maintenance.
GOING BACK TO THE BASICS
Undeniably, maintaining curb appeal can be more valuable than ever when recession strikes – but equally, budgets for the maintenance of exterior spaces are a logical place to turn when exploring creative cost cutting. Going back to basic commercial landscape maintenance for your green spaces can serve as an excellent starting point for realizing lower landscape costs.
In essence, lawns must be mowed, and weeds, trash and debris must be removed. ground cover care, edging, shrub pruning, and leaf removal must be included, while walkways must be clean and debris free. Irrigation watering systems must be programmed, monitored and managed strategically. From these simple foundations, lower landscaping costs can be fortified through further cost-reduction strategies – which we'll come back to in a moment. At FloraTerra, it is our job to ensure that the value engineered commercial landscape maintenance we provide is within your budget, targets your goals and objectives, and delivers the consistent aesthetic that you aspire to!
DOES YOUR RECESSION STRATEGY MEASURE UP?
Efficiency in the face of an unpredictable economy means prioritizing effort and investment that will reap the greatest reward. It is vital, too, to ensure that both short term and long terms returns are taken into account. This balance requires vision – as we steer clear of cutting corners, while creating recession-ready plasticity! At FloraTerra Landscape, we understand the importance of meeting your targets in performance, reliability, quality, and safety at the lowest possible price.
As a commercial landscape maintenance contractor, we strategically focus first on the areas that make the most sense. Placing emphasis on high impact areas, such as corporate insignia's, marketing corridors, property frontage, Hollywood zones, main building entrances, lobbies, corporate driveway entrances, patio court yards, and outdoor seating areas is key. We also draw on our diligently-earned knowledge of commercial landscape maintenance to frame these areas in sustainable and attractive ways. This approach helps us lower landscape costs in meaningful ways.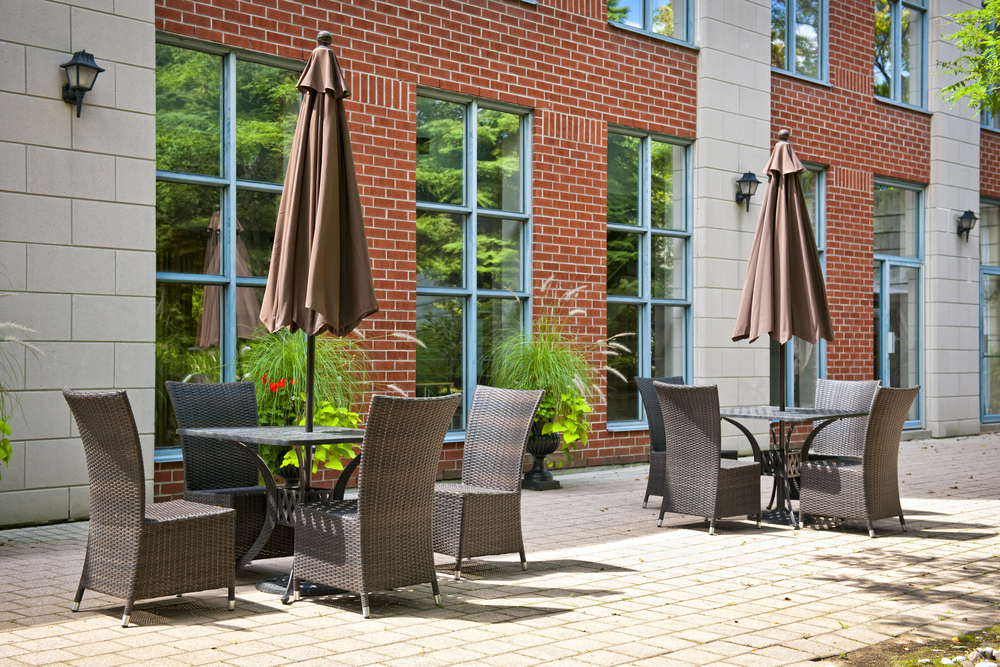 7 IMPACTING COMMERCIAL LANDSCAPE MAINTENANCE STRATEGIES TO LOWER COST:
Bay Area plants and attuning to local weather patterns
Planning for seasonal growth
Optimized labor functions
Anticipating frequency of activities
Task oriented staff
Precise water management
Clear transparent pricing, without surprises
INNOVATIVE WAYS TO DRIVE COSTS SOUTH
With a foundation of basic landscape care established, the next all-important step is discovering potential to enhance your green spaces towards their practical and aesthetic potential. Lowering commercial landscape maintenance costs can be realized through tactics such as eliminating high maintenance plants, and replacing them with plants that will require less maintenance – meaning labor cost savings for you! Commercial lawn care demands substantial irrigation, aeration, fertilizer, and to be mowed at an average rate of 42 to 45 times each year. Substituting lawns with combinations of drought resistant ground cover can provide striking visual contrast, substantial money savings, and a far more earth-friendly footprint!
WATER EFFICIENT LANDSCAPES FOR A GREENER TOMORROW
Flora Terra Landscape Management takes great pride in developing water efficient landscapes, as a greener and more affordable solution geared specifically to our local bay area climate. Water conservation can be improved further through scheduled water audits, eliminating high cost water waste due to broken, malfunctioning or inefficient irrigation equipment. In fact, some local water agencies may come out to provide a free water audit for identifying areas of water waste. Using reclaimed water may be an excellent option for some properties, while the simple action of capping unnecessary irrigation, for example in vacant planters, can contribute yet further to water conservation.
For commercial building real estate owners, property managers and multi-family communities such as home owner associations, common interest properties, apartment communities and multi-use developments, implementing such approaches can make all the difference. These overhead savings for property owners – just like you – means far greater space to maneuver during any recession.
THE COMMERCIAL LANDSCAPE MAINTENANCE TAKE AWAY
With an effective value engineered plan, your commercial landscape maintenance doesn't have to break the bank. Collaborating with an economy friendly commercial landscape maintenance contractor can mean savings significant enough to sail through a tough economic episode, to the stable shore on the other side!
Reducing costs doesn't have to mean sacrificing an aesthetically pleasing property – particularly when you choose a commercial landscape maintenance company that has the experience, business acumen and track record that leads to a favorable outcome. You, and your tenants, can benefit from lower landscape costs, while enjoying outdoor spaces that are inviting, thriving and a pleasure to behold. As a leading bay area commercial landscape maintenance company, FloraTerra provides services for property management companies, HOA communities, apartments, office buildings, retail malls, corporate campuses – and many more – the value engineered solutions they require.
HOW CAN A COMMERCIAL LANDSCAPE COMPANY CUT COSTS IN A DOWN ECONOMY? Here's Our Smooth, Simple and Transparent

5 STEP PROCESS

:
We Setup a Remote Conference Call and Arrange a Site Analysis
We Provide a Site Specific, Targeted Budget
We Show how we Can Save You Money
We Assist for a Smooth Transition
We Commence Services with our 30-Day Trial Offer
Call 408.275.1200 to Learn More Today – or Alternatively, We're Just a Click Away!
ABOUT OUR COMMERCIAL LANDSCAPE MAINTENANCE COMPANY
FloraTerra and its affiliates, are based in San Jose, California. As a leading commercial landscape maintenance contractor in San Jose Ca, FloraTerra specializes in Industrial and commercial landscaping services, since its origin the company and its affiliates have installed and maintain some of the most prestigious properties throughout the Silicon Valley, Metro area.
AREAS WE SERVICE:
| | | |
| --- | --- | --- |
| Santa Clara County | Alameda County | San Mateo County |
| Silicon Valley, CA | Fremont, CA | Palo Alto, CA |
| San Jose, CA | Newark, CA | Menlo Park, CA |
| Santa Clara, CA | Union City, CA | San Carlos, CA |
| Sunnyvale, CA | Hayward, CA | Belmont, CA |
| Mountain View, CA | San Leandro, CA | Redwood City, CA |
| Cupertino, CA | Alameda, CA | Foster City, CA |
| Milpitas, CA | Dublin, CA | Burlingame, CA |
| Morgan Hill, CA | Pleasanton, CA | Daly City, CA |
| Gilroy, CA | Livermore, CA | South San Francisco, CA |