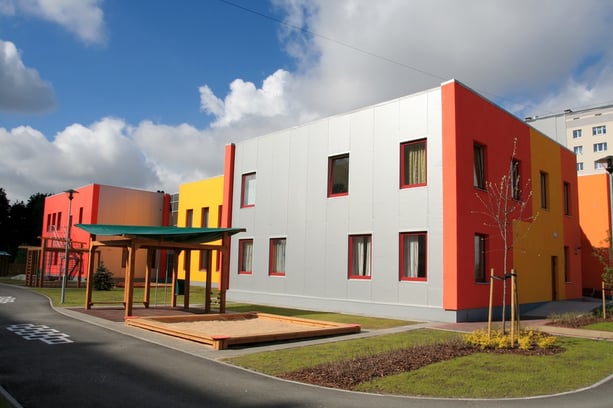 An HOA Landscape company strategizes safety protocols for an HOA property, indoor measures such as maintenance of fire alarms, hand rails, and non-slip surfaces are usually the first places we focus. However—and this is especially true for multi-community properties—outdoor spaces call for just as much care and attention.
Do You Know the Safety Protocols That Your HOA Landscaping Company Should Be Following?
Ultimately, common areas of an urban community are created with use and enjoyment in mind. This makes it vital that your trusted HOA landscaping company place just as much emphasis on safety as on maintaining, and creating lush and beautiful landscaping. So, what safety protocols might a commercial landscape contractor give focus to? Read on to discover what to expect, and how to set your standards!
Clean, Safe, and Debris-Free Walkways
The danger of slips and falls is just as pertinent outdoors as it in indoors, and potential liability just as relevant. Looking beyond safety, the curb appeal of landscaping and the aesthetics of the most trafficked areas will certainly define your property. As such, the HOA landscaping company that you trust with maintaining green areas should always make the condition of walkways a front-line priority.
Ramping up efforts to ensure that paths and entrances are debris free and clear of obtrusive plant material should always go without saying. When fall arrives, the season's romantically changing colors and the drive to stay out of changing weather should not detract from the increased need to prioritize safety. Water-logged leaf debris combined with rain and condensation can quickly become a hazard. Keeping every walkway ready to be traversed is a vital responsibility for your HOA landscape contractor. Water Safety and
Freezing Temperatures
An adept HOA landscaping professional will always be keeping a keen eye on any signs of wet surfaces or escaping moisture. During the summer months, unnoticed water leaks can lead to structural damage that later becomes a safety risk. During the winter months, freezing temperatures can mean slippery patches of ice that are perilous to residents.
A seasoned and appropriately-skilled HOA landscape company will turn to tactics such as installing irrigation freeze sensors and programming irrigation according to anticipated weather. The correct attention to care and maintenance—combined with intelligent water management tactics—will ensure that safety is prioritized, water run-off is mitigated, and water use remains sustainable.
Illumination That Caters to Both Aesthetics and Safety
Nobody can deny that artfully applied illumination really adds to the aesthetic of green spaces within HOA landscaping. The right lighting can make outdoor areas both inviting and easy to explore at night, but there's more to consider than that. A well-lit path or stairway is far safer for pedestrians passing through at night. Meanwhile, a charmingly illuminated property also minimizes the probability of loitering, homeless activity, and crime—ensuring the safety and security of those for whom the space is intended.
Tree Monitoring and Pruning
A mature tree doesn't require much in the way of water, so it might be easy to imagine it needs no maintenance at all. However, untended trees often develop at-risk limbs that pose a danger to cars, structures, and pedestrians if they should ultimately fall. Your HOA landscape maintenance contractor will be able to advise on a solid tree pruning strategy, carrying out tree-care in the winter months when your standing giants are dormant, and monitoring their health all year round.
Pavement and Hardscaping Maintenance
Pavements and hardscaping require the very same care as the aforementioned pathways, but their priority becomes all the more relevant when we consider the investment they represent. Within any HOA property, these features are an asset and should be safeguarded as such. A skilled HOA landscape company will be on-task when it comes to watching out for surfaces that are buckling or being pushed up by invasive tree roots. Any damage can be quickly acted upon and its cause eliminated, ensuring the wellbeing of features and pedestrians alike.
HOA Gardening Lawn Service
Many HOA managers favor an an area or two on the property in their care, for the impression of elegance provided. However, that clipped and crisp look requires regular maintenance. Beyond aesthetics, safety also becomes a factor when pot holes are allowed form or vertebrate pests begin undermining the lawn's structural integrity. Even in lawn areas that are intended as purely ornamental, residents and their guests are bound to take a short cut or decide to explore from time to time. As such, an HOA lawn care service should consistently mow and monitor to ensure its always ready to welcome foot traffic.
Careful Asset Monitoring and Security Measures
Few would consider the value of the assets involved in HOA landscaping—unless they themselves have overseen the budget, or taken on the mantle of responsibility in regard to them! In reality, beyond aesthetic and practical structures created for residents' enjoyment, an array of other fixed assets also require care and attention. For example, in-ground irrigation boxes and valuable smart watering equipment should be checked upon frequently, with missing covers replaced, and security held in mind.
Damage to such infrastructure can happen accidentally on occasion—even at the hands of the plants themselves—but vandalism can also be a concern. Bolting down utility boxes may be an investment worth considering, while the presence of attentive commercial landscape contractors will also serve as a deterrent, giving the clear signal that the status of the property and its residents are always prioritized.
Are you ready to collaborate with a seasoned HOA landscape maintenance company that will always shine a spotlight on the safety of your residents? Turning to FloraTerra's bespoke HOA landscape services means gaining access to a higher standard of care, thanks to our core commitment to cultivating dedicated safety protocols. Contact our team today to learn about how we can assist!
Are You Ready to Collaborate?
Call 408.275.1200 or Click Below.

ABOUT US
FloraTerra and our affiliates are conveniently based throughout the greater bay area. As a leading commercial landscape company, we specialize in homeowners associations, condominiums, corporate campus developments, commercial office, retail centers and common interest developments. Since 1998, our company and partners have installed and maintain some of the most prestigious commercial developments throughout the Silicon Valley.
WE GO WHERE YOU GO!
| | | |
| --- | --- | --- |
| Santa Clara County | Alameda County | San Mateo County |
| Silicon Valley, CA | Fremont, CA | Palo Alto, CA |
| San Jose, CA | Newark, CA | Menlo Park, CA |
| Santa Clara, CA | Union City, CA | San Carlos, CA |
| Sunnyvale, CA | Hayward, CA | Redwood Shores, CA |
| Mountain View, CA | San Leandro, CA | Redwood City, CA |
| Cupertino, CA | Alameda, CA | Foster City, CA |
| Milpitas, CA | Dublin, CA | Burlingame, CA |
| Morgan Hill, CA | Pleasanton, CA | Daly City, CA |
| Gilroy, CA | Livermore, CA | South San Francisco, CA |