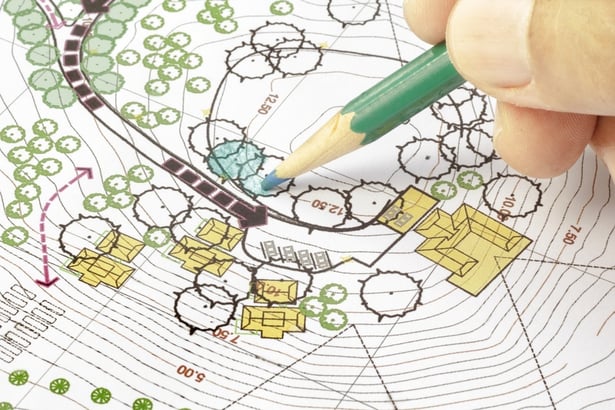 When developing any commercial property vision, there are doubtless countless design elements, details, and practicalities to accommodate. It may not be at the very top of your list, but at a certain point, it will become essential to find the perfect collaborator for landscape design. You'll certainly want the green spaces that frame your property to reflect the quality that lies within!
Addressing external spaces can seem overwhelming, and making sense of how to best use the space while quantifying budget expectations can leave the mind reeling. At this early juncture, a highly experienced commercial landscape company can be the best possible ally. They will be adept at conceptualizing how to transform your property, so that inside and outside begins to flow as one—and no area is left under-utilized or overlooked.
The Right Commercial Landscape Design
The right commercial landscape design will make a big impression, providing interest and exploration, and complementing or even enhancing architecture. Of course, commercial landscape maintenance and design calls on a different skillset to interior landscaping, and requires a specialized talent. If you're ready to begin your journey with a skilled commercial landscape specialist, you're probably wondering where to begin. So, lets dig into what to expect and seek out as you begin your ultimate landscaping journey.
Considering Your Goals and Objectives
Before meeting with a potential commercial landscape contractor, it's vital to have an established sense of your hopes, dreams, and budget. Whether your goal is to support your LEED certification, focus on water and maintenance sustainability, or create a high-end luxury environment—and perhaps even a combination of all of the above—it is useful to lay out your objectives to refer back to when you begin the consultation process.
Conceptualize a Detailed Strategy
Take note of what you desire—as well as what you are not yet certain of. Also consider what your long-term commercial landscape service needs might be, such as commercial tree care, landscape maintenance, day porters, or perhaps an all-inclusive service. What lies beneath the question marks that remain in your game plan can be illuminated later as you conceptualize a more detailed strategy with your chosen collaborator. By collating as much information as possible, you will we well positioned to initiate a valuable Request For Proposal process.
Reaching Out to the Right Commercial Landscape Design Specialist
You can choose whether your first partnership is with an independent commercial landscape designer, or with an appropriately large commercial landscape company that offers design among a comprehensive list of services. The former offers the capacity to create a design before seeking RFPs from landscape contractors. However, if the design in question is poorly thought out or not suited to the distinct Bay Area climate, this may cause problems down the road—so checking credentials thoroughly is a must.
Partner with a Seasoned Commercial Landscape Designer
If choosing to partner directly with a seasoned commercial landscape service—fully equipped to travel with you through every stage from design to completion—you will likely achieve better value overall. They may also offer flexibility in allowing you to procure your own plants, creating space for further budgetary considerations, while still providing the same assurances.
Research their Credentials
Once again, investigating credentials is essential. The right commercial landscape contractor will cover every facet of your needs to an exemplary standard, while an oversold and under equipped contractor will not be able to navigate the substantial task of realizing and maintaining landscaping worthy of your aspirational commercial setting.
Getting To Grips with a Trustworthy Commercial Landscape Contractor
When selecting a commercial landscape contractor, assessing experience and expertise should always be a priority, so don't be afraid to ask questions. A trustworthy commercial landscape company will be ready to share how long they have been in business—and specifically how long they have been offering commercial landscape design.
They should be ready to showcase a list of commercial projects, including several with similar size and scope. Their track record should also place emphasis on water-conscious landscaping for favorable cost-conscious results, and expertise in plant species for the very specific local climate.
Check Accreditations, Background, and Certifications
The designer who will take charge of sculpting your future landscaped areas should be one with a proven track record, and ideally a decent length of service with the commercial landscape company to which they are attached.
For both designers and the landscape company itself, be certain to check affiliations, academic backgrounds, accreditations, certifications, insurance, and the range of expertise and associated equipment that comes as part of their service. A glaring hole that drops the ball on one of your needs will later be regretted. As you go through this fact-finding process, the way that communication flows should also be considered a vetting factor and hopefully an indicator of future prosperous interactions.
Initiate a Request for Proposal
Once you are satisfied, you can initiate a Request for Proposal. You will likely have a sense of your budget, but a seasoned contractor should also be ready to advise you of your options, helping you paint a clear picture of costs in relation to the initial landscape development stage and long-term maintenance.
A high-caliber contractor will also work with you to meet your design and cost objectives—they should be able to scale solutions with quality in mind, and lay out clear and concise schedules so you can see the path ahead. With a comprehensive and budget-friendly RFP secured, the exciting process of landscape development can begin!
What Comes Next with a Trusted Commercial Landscape Contractor
Of course, the next question is, what should you anticipate after your commercial landscape development is complete? The wonderful thing is that the completion of this type of project is only the beginning for a proud property owner.
Commercial landscaping is a living and breathing thing that will continue to grow and evolve. Tour commercial landscape contractor's task is to keep plants and trees looking vibrant and healthy, and landscaping immaculate at all times. As such, anticipate that commercial landscape maintenance technicians visit every one or two weeks to care for your evolving green spaces, nurturing them towards maturity.
Our approach is to cultivate an understanding of your goals
For the initial design process through to forging a long-term relationship with a collaborator you can trust, FloraTerra Design Group offers more than 25 years of experience manifesting prestigious commercial landscapes across the Bay Area.
We take great pride in delivering unparalleled service across every facet of commercial landscape creation, ranging from outstanding and sustainability-conscious design through to intuitive and modern landscape maintenance provision. Our approach is to cultivate an understanding of your goals, and support you as you move towards your vision. If you would like to know more about how we can provide support, get in touch today to find out more
Are you ready for a new look?
Call 408.275.1200 or Click Below.

ABOUT US
FloraTerra and our affiliates are conveniently based throughout the greater bay area. As a leading commercial landscape company, we specialize in homeowners associations, condominiums, corporate campus developments, commercial office, retail centers and common interest developments. Since 1998, our company and partners have installed and maintain some of the most prestigious commercial developments throughout the Silicon Valley.
WE GO WHERE YOU GO!
| | | |
| --- | --- | --- |
| Santa Clara County | Alameda County | San Mateo County |
| Silicon Valley, CA | Fremont, CA | Palo Alto, CA |
| San Jose, CA | Newark, CA | Menlo Park, CA |
| Santa Clara, CA | Union City, CA | San Carlos, CA |
| Sunnyvale, CA | Hayward, CA | Redwood Shores, CA |
| Mountain View, CA | San Leandro, CA | Redwood City, CA |
| Cupertino, CA | Alameda, CA | Foster City, CA |
| Milpitas, CA | Dublin, CA | Burlingame, CA |
| Morgan Hill, CA | Pleasanton, CA | Daly City, CA |
| Gilroy, CA | Livermore, CA | South San Francisco, CA |