Sure, the drought has passed in the bay area with average temperatures in the high 80's and 90's, water allocations flowing at a minimal cost, one would think water isn't an issue. More importantly, many landscaper's for commercial office buildings might think its acceptable to use excessive amounts of water, but not so. Lets rethink this for a moment, a landscape company for businesses must be environmental stewards when it comes to conserving our natural resources. Is it possible to have beautiful flowers that requires less water? The simple answer, absolutely yes!
When it comes to drought resistant flowers, one must not settle for boring cacti or desert succulents at prominent locations. Flowers, if appropriately selected, can make a striking difference unlike the sea of sameness. Read on!
5 Trending Flowers: Used by Commercial Office Building Landscapers
When it comes to popular flower trends, many commercial landscape companies understand that the maintenance characteristics are equally as important as the color. Some attributes might include their ability to withstand drought, they must be verdant, heat tolerant, and lastly, they must bloom prolifically throughout the blistering hot summer.
Top 5 Summer Flowers We Love :>)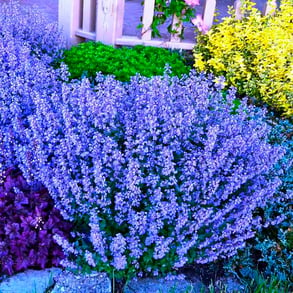 1. Nepeta Faassenii: A Cheerful, Bold Perennial
Nepeta is one of the easiest flowers to grow in Bay Area Landscaping. Nepeta comes in a variety of striking blue tones. These adorable, hardy flowers are attractive and require minimal care. The are popular among commercial landscape companies because of their low maintenance, drought resistance and they bloom prolifically all season long.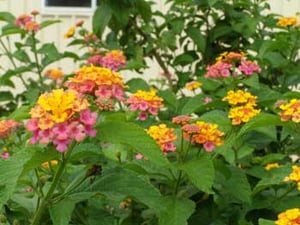 2. Lantana: A Bay Area Drought Survivor
Lantana can be used extensively in Commercial Landscaping applications.These plants produce clusters of small-like flowers are very hardy coming in a range of colors including lavender, yellow and orange. Once established they require very little water and love the heat. Think of them as durable and prolific flowering plants. In fact, lantana's loves the heat so much that it will thrive in this exposure.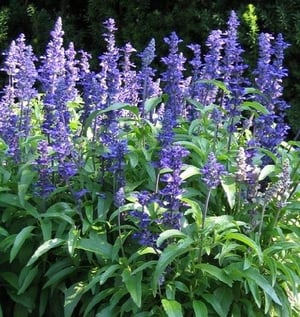 3. Salvia: with a Cool Blue
This type of flower is used in Bay Area Landscaping, it produces dense upright flowers that actively bloom through the summer; they perform well in full sun that is hot. Group these plants with light colored foliage since the lighter shades will complement the blue colored flowers.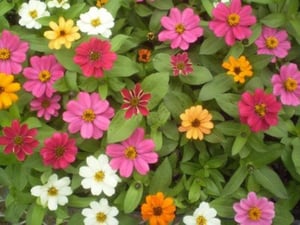 4. Zinnia: Profusion
The zinnia is a versatile annual. It's renowned for its resistance to heat, drought, and mildew, which makes it worth its weight in gold in humid and foggy climates. Now, all Zinnias are pretty tolerant of heat, but Profusion goes above and beyond. Of course, it also attracts butterflies, puts up with stressful conditions, and flowers its head off -- it's a truly carefree choice for edging, bedding, and containers.
Profusion was designed for large plantings, both covering ground and filling in bare spots beautifully. But it also thrives in flowerpots and landscape beds, and can be "crowded" in among other plants, unlike most Zinnias. You just can't go wrong with Profusion --we unreservedly give it our highest recommendation. So give this economical little mix a try and we bet you'll become a Profusion lover too! Each of the colors (and many more, including double-flowered forms) is available separately, too: white, yellow, and fire. You just can't go wrong with Profusion!

5. Romneya Coulteri
(Matilija Poppy)
Use care with the delicate roots when planting and consider a root barrier if containment is wanted. It can be grown for a few years and even flower in a container but is certainly a more dramatic plant when grown out in the open such as can be seen in the large patch along the road coming up to our nursery. The flowers are attractive to bees, birds and butterflies.Spreading from underground runners, this beautiful California native grows 4-6 feet tall and spreads to 8 feet or more with glaucus gray foliage pinnately divided into 3-5 lobes. The large (seven inches across) flowers have white crinkled petals with a yellow center and are delicately fragrant with a peak bloom period is during the spring and summer. Plant in sun or partial sun in a well-drained soil. It is drought tolerant and hardy to near 0°F.
Commercial Office Building Landscapers
At FloraTerra, our commercial office building landscapers understand commercial landscape management. More importantly, our commercial landscape designers turn boring landscaping into works of art. See how
Give us a call at 408.275.1200, or click here.
Get our FREE Sustainable Guide Below!