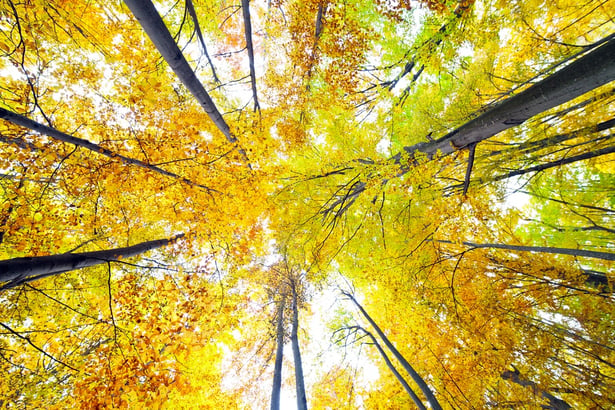 If we close our eyes and imagine the epitome of perfect HOA landscape maintenance, it is almost certain that the picture we manifest will include the beautiful arching bows of trees. When placed correctly, trees certainly possess an impressive set of superpowers.
Within an HOA property setting, they can create different garden zones for residents' enjoyment, provide much-needed shade from the powerful Bay Area sun, and screen sound and sight-lines, facilitating both privacy and tranquility. Ultimately, they provide a verdant green retreat that shields inhabitants from the outside world.

With the assistance of a trusted HOA landscape company, the potential to manifest such imagined green spaces becomes entirely tangible. One of the key resources required in such an endeavor is knowledge of ideal tree species to meet the challenge.
So, we spoke to some of our most dedicated tree-care experts here at FloraTerra Landscape Management, and asked them to share their favorite tree types for creating dream HOA landscaping.
Now, considering that our HOA Landscaping Company, based in the Redwood Ca area, you'd be right in imagining that these choices are both drought tolerant and delightfully adaptable to the peninsula area. Read on to discover their recommendations for your wish list!
Magnolia Little Gem
This spectacular and stylish specimen, also known as 'Little Gem Magnolia', offers a striking aesthetic comprising deeply hued leaves and pretty flowers. It serves fantastically as an accent tree or in the creation of evergreen screens. Although it is considered a dwarf variety, the Little Gem Tree can reach 25ft tall in maturity, but remains compact in canopy. These qualities make it a wonderful choice for smaller spaces, perhaps between condominiums or town homes. That beautiful dense foliage is also ideal for blocking views and sound, and providing precious privacy.
Melalueca quinquinervia 'Cajeput Tree'
Many commercial landscape designers like this tree for the reasons that it is moderate to fast-growing evergreen tree with an upright growth habit to 25-40' tall x 15-25' wide. This popular species can be grown as a single or multi-trunked tree and forms a strongly upright appearance. Attracts birds and bees. Can be grown as a dense formal clipped hedge or screen or left un-pruned to form an open- sculptured work of art.
Hymenosporum Flavum
This tree draws the common name 'Sweet Shade', and with very good reason! Its fragrant and lasting blooms will be a treat your senses from spring into early summer. The blossoms emerge in pale yellow, gradually darkening to a deeper shade as the weeks progress.
These emerge from a slender evergreen tree with light gray bark and glossy clustered green leaves. Sweet Shade is drought tolerant and hardy to 20ºF, growing to 40ft high and around 20ft wide—so requiring of enough space to meet its namesake potential!
Laurus Nobilis
The phenomenal versatility of this tree is perhaps best reflected in its long and prestigious history. The Laurus Nobilis, otherwise known as 'Saratoga Bay Laurel' is in fact the source of culinary bay and the famous laurels of Greek antiquity. When left to its own devices, this evergreen specimen will grow to about 25ft x 25ft. However, it can also be clipped into hedgerow or topiary.
Because of the fantastic ease with which the tree can be shaped and trained, it is also immensely valuable in symmetrical or uniformly structured beds and borders. We also discover in Laurus Nobilis a species that is both hardy and drought tolerant, capable adapting to a range of micro-climates, with modest water needs.
Agonis Flexuosa
For those on the hunt of a stand-out specimen, few trees suited to meet the needs of our HOA commercial landscaping company could boast a more vivacious character than the 'After Dark Peppermint Willow'. Although not the most drought tolerant choice on our list, this tree can abide a fair dose of summer's harshness once well established, and faces windier coastal conditions with impressive robustness.
Of course, as the given-name implies, this tree possesses qualities that make it uniquely tempting. In particular, dark burgundy colored evergreen foliage, semi-sweeping branches, and a decoration of white, burgundy-centered flowers through spring and summer make this tree strikingly unique.
Tristana Laurina, Elegant Tristaniopsis
Here we discover a slow-growing tree that is ideal for smaller gardens or street plantings. Growing to roughly 20ft high x 15ft wide, the 'Elegant Water Gum' provides refined charm thanks to its dense crown and color-changing leaves. New foliage emerges in saturated reds before darkening as they grow.
This tree can be trained as a standard or multi-trunked tree, and its reddish-brown bark peels back to reveal smooth light grey bark underneath. Adding yet more fascination, lightly fragranced yellow flowers bloom in clusters during late spring and early summer. Together, these many properties deliver elegance indeed!
Osmanthus Fragrans
To impassioned gardeners of the Bay Area, 'Sweet Olive' is certainly a treasured specimen. Grown either as a small tree or shrub, Sweet Olive serves beautifully as a background presence within perennial borders or a compact and textured element within grouped tree displays.
Reaching 10ft high x 8ft wide, this species serves well as a privacy screen, or as a foundational planting choice when used by our HOA landscape designers. With divinely scented blossoms, Sweet Olive is a welcome presence within any commercial landscape maintenance setting. It thrives in partial shade, making it a perfect mid-level choice for a varied canopy composition.
An HOA Landscape Company Ready to Meet Your Needs
Alongside advising on the very best trees to suit your unique HOA landscape setting, we at FloraTerra are also fully equipped to care for your trees in every season. Taking care of details ranging from irrigation management to specialized tree pruning, we lift the weight of tree care from your mind. We can also advise on large tree specimens that threaten to compromise surrounding infrastructure.
The reality is that landscaping is a living and evolving thing—as well as an important presence for aspirational HOA property developers! If you are ready to partner with a homeowners association landscape company, reach out to the FloraTerra team today so we can explore the possibilities together.
Are you Ready to Partner With a New Ally?
Call 408.275.1200 or Click Below.

ABOUT US
FloraTerra and our affiliates are conveniently based throughout the greater bay area. As a leading commercial landscape company, we specialize in homeowners associations, condominiums, corporate campus developments, commercial office, retail centers and common interest developments. Since 1998, our company and partners have installed and maintain some of the most prestigious commercial developments throughout the Silicon Valley.
WE GO WHERE YOU GO!
| | | |
| --- | --- | --- |
| Santa Clara County | Alameda County | San Mateo County |
| Silicon Valley, CA | Fremont, CA | Palo Alto, CA |
| San Jose, CA | Newark, CA | Menlo Park, CA |
| Santa Clara, CA | Union City, CA | San Carlos, CA |
| Sunnyvale, CA | Hayward, CA | Redwood Shores, CA |
| Mountain View, CA | San Leandro, CA | Redwood City, CA |
| Cupertino, CA | Alameda, CA | Foster City, CA |
| Milpitas, CA | Dublin, CA | Burlingame, CA |
| Morgan Hill, CA | Pleasanton, CA | Daly City, CA |
| Gilroy, CA | Livermore, CA | South San Francisco, CA |