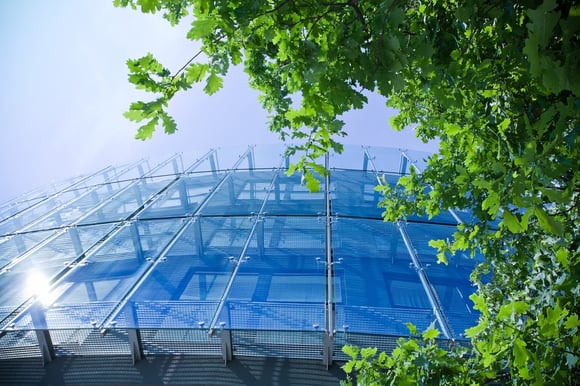 A spectacular commercial landscape display is a fantastic force for elevation. It serves as a decadent backdrop to work well done, great deals struck, and the formation of prosperous client-company bonds. When in the presence of such a space, most people won't scrutinize its composition. But when you're a business's hoping to create such lush and verdant greenness, the details are suddenly drawn into focus!
All too often, commercial landscape companies steer towards traditional lawn—lumbering site owners with high maintenance costs and water bills that they might otherwise have opted out of. While a place undoubtedly still remains for the well-placed lawn on some properties, there are so many alternatives to explore. The use of drought-tolerant and bountiful ground cover plants can provide that soothing, tranquil green aesthetic that so many businesses dream of, without the costly upkeep. Why not join us as we explore what ground cover can offer your commercial property? The FloraTerra team are always on hand to implement your vision!
When it comes to a great commercial landscape design, great ground cover can be so much more interesting than lawn—providing a diversity of vivid colors and textures that shift and evolve throughout the year. When placed in a well-suited setting, ground covers can also make quick work of smothering invasive weeds, replacing mulch and shrinking maintenance costs in the process.
Ground cover plants play another vital role as soil stabilizers, saving vulnerable areas from damaging erosion and water runoff. Better yet, the right choice of plant can thrive in poor soil, or when subjected to extreme winds or temperatures. As expert landscapers for commercial property, we will harness our know-how to unite each setting with its perfect ground cover counterpart—ensuring abundant beauty for years to come!
A Landscaping Solution That Balances Cost and Functionality
There is no doubt that commercial landscaping is a long game, and your trusted commercial landscape designer should steer you towards solutions that will save you costs in the long run, rather than towards easy-now-but-expensive later ideas. Depending on the plants and placement, installing lawn can be cheaper at face value than ground cover, however, these two potential paths may soon exchange positions.
The long-term costs of maintenance, mowing, labor, water, fertilizers, pesticides, and irrigation system-upkeep should all be factored in when making that initial investment. Ultimately, when the correct ground cover is selected—under the guidance of your expert commercial landscape contractor—the reward can be a lucrative return on investment. In this endeavor, always turn to a Bay Area commercial landscape company like FloraTerra, with comprehensive local knowledge, and an established track record for the successful application of ground covers.
Transforming Problematic Areas Into Beauty Spots
Many commercially landscaped spaces suffer from that one ultra-frustrating problem area that never seems to meet expectations. This is particularly true when traditional planting—completely unsuited to the local climate—is thrust upon terrain that will never support it. While a disappointing area might not seem like a disaster, its amazing how much such a space can cost a company over the years, as they repeatedly reinvest is lawn or shrubs that will ultimately wither and die.
In contrast, under the guidance of a knowledgeable commercial landscape company, the right ground cover can be transformative. The solution might be a verdant ground cover that thrives in shade, such as Asiatic Jasmine; or a species that will stand up to corner-cutting foot traffic, such as Golden Creeping Jenny. Here are some of the ground cover plants that the FloraTerra Design Group like to keep in their trouble-spot toolkit, and often use to create spectacular displays that provide that abundant green setting that so many forward-thinking businesses aspire to:
Ground Covers that Thrive In Shade
Asiatic Jasmine (Trachelospermum Asiaticum)
Australian Bluebell Creeper (Sollya Heterophylla)
Winter Creeper (Euonymus Fortunei Silver Queen)
Baby Tears (Soleirolia Soleirolii)
Lomandra Breeze (Lomandra Longifloria)
Evergreen Curent (Ribes Viburnifolium)
Bugle Weed (Ajuga Chocolate Chip)
Orange Clivia (Clivia Miniata Orange)
Japanese Stone Crop (Sedum Makinoi Ogon)
Star Jasmine (Trachelospermum jasminoides)
Drought Tolerant and Low Maintenance Ground Covers
Cousin Itt Acacia (Acacia Cognata)
Point Reyes Manzanita (Arctostaphylos Uva-Ursi Point Reyes)
Dwarf Coyote Brush (Baccharis Pilularis Pigeon Point)
Green Carpet Natal Plum (Carissa Green Carpet)
Magenta Rock Rose (Cistus Sunset)
Creeping Barberry (Mahonia Repens)
Stonecrop Dragons Blood (Sedums Dragons Blood)
Yarrow (Achillea Millefolium)
Ground Covers That Stand Up to Foot Traffic
Blue Star Creeper (Isotoma Fluviatilis)
Sheet Moss (Hypnum Cupresiforme)
Elfin Thyme (Thymus Serpyllum)
Pacific Beach Starwberry (Fragaria Chiloensis)
Golden Creeping Jenny (Lysimachia Nummularia 'Aurea')
Bowles Common Periwinkle (Vinca Minor)
Bronze Carpet Stonecrop (Sedum Spurium Bronze)
Baby Tears (Soleirolia Soleirolii)
Silver Carpet (Dymondia Margaretae)
White Evening Primrose (Oenothera Speciose)
Spring Cinquefoil (Potentilla Verna)
A Commercial Landscape Company Who Beautifies Green Space
When deciding whether to invest in commercial lawn care or choose a ground cover that will go from strength to strength, you need an experienced landscape contractor who knows the ins and outs of local climate and plant species intimately. Rather than risking another failed attempt at bringing your green spaces up to standard, why not consult with FlorraTerra and receive comprehensive advice that encompasses all types of plant species and all aspects of landscape design—manifesting solutions that are ideal for your site and budget.
As a leading commercial landscape designer in San Jose Ca, FloraTerra takes great pride in providing trusted advice to a diversity of commercial property managers. Our exemplary reputation has been established through years of not only investing in creating spectacular green spaces, but also in supporting the companies that enjoy them every day.
If you want to learn more about ground cover alternatives, or explore any aspect of commercial landscape design, our team of skilled advisors is at your disposal. Get in touch today, and begin your journey towards next-level outdoor spaces!
Call 408.275.1200 or Click Below.

ABOUT US
FloraTerra and our affiliates are conveniently based throughout the greater bay area. As a leading commercial landscape company, we specialize in homeowners associations, condominiums, corporate campus developments, commercial office, retail centers and common interest developments. Since 1998, our company and partners have installed and maintain some of the most prestigious commercial developments throughout the Silicon Valley.
WE GO WHERE YOU GO!
| | | |
| --- | --- | --- |
| Santa Clara County | Alameda County | San Mateo County |
| Silicon Valley, CA | Fremont, CA | Palo Alto, CA |
| San Jose, CA | Newark, CA | Menlo Park, CA |
| Santa Clara, CA | Union City, CA | San Carlos, CA |
| Sunnyvale, CA | Hayward, CA | Redwood Shores, CA |
| Mountain View, CA | San Leandro, CA | Redwood City, CA |
| Cupertino, CA | Alameda, CA | Foster City, CA |
| Milpitas, CA | Dublin, CA | Burlingame, CA |
| Morgan Hill, CA | Pleasanton, CA | Daly City, CA |
| Gilroy, CA | Livermore, CA | South San Francisco, CA |