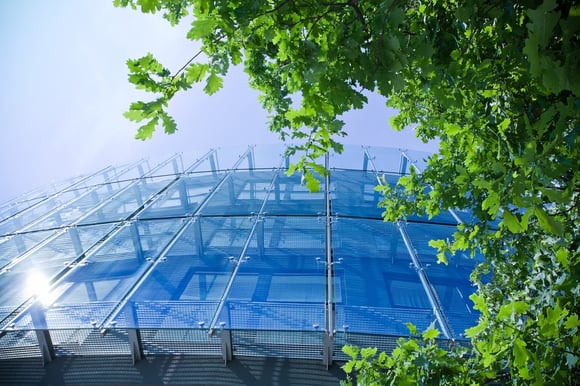 It's easy to see why investing in landscaping makes sense for businesses who aspire to stand out among their competitors. After all, curb appeal is a powerful tool to harness. But did you know that an aesthetically pleasing landscape offers far more to those who encounter it than the visual aspect alone?
As flowers perfume the afternoon air, as you enjoy the springy sensation of walking across a lush lawn, or as the textured foliage seen through your window gives your mind a moment of respite, it's worth considering the depth of your experience.
Crucially, there are more rewards to be found than those that simply meet the eye. Read on to discover why your trusted commercial landscape service can be considered a source of wellness as well as greenness!
Harnessing a Natural Air Filter
An air filter is a trendy electronic accessory for homes and offices alike these days, but did you know that nature has always offered the very same service—with no bill to pay at the end of the month! Undoubtedly, the most sophisticated air filters of all are both living and landscaped, and green spaces surrounding a commercial property are likely where they do their best work.

According to some commercial landscape designers, Shrubs, trees, lawns—and in fact, any kind of foliage—make light work of absorbing smoke, dust, and other unwelcome air particles that we'd really rather not inhale. Of course, when it comes to breathing, the humble plant is our most dedicated life-line.
Every leaf or frond is ever-busy, soaking up carbon dioxide, and converting it into the lung-friendly oxygen that allows us to go about our days. You might think, surely a modest commercial garden can't make that much of a difference? Well, consider this: a 50'x50' lawn can meet the oxygen needs of a family of four. So, how do your commercial property's green credentials stack up against your employee numbers?
Buffering Against Noise Pollution
The busy environments within which most of us spend our time are often sound tracked by a bombardment of noise. Emergency sirens intersect the rumble of traffic sounds, motorized equipment in the distance, and the buzz of humanity doing its thing. In fact, we often don't realize how much our senses are ultimately accommodating until we're treated to the tranquility of silence!
We might not notice the impact that this has within our inner systems, but science suggests that all that ruckus can trigger a stress response, ramping up our cortisol levels, and leaving us feeling fried at the end of the day.
As a perfect salve to this sound-related conundrum, your commercial landscape service serves as guardian to the very resource that can help you dial back those stress hormones. The foliage that decorates landscaped areas can actually suppress surrounding noise by almost a 20-30%. Now, doesn't that sound peaceful?
Giving Us a Psychological Boost
Illuminating yet further benefits of beautiful commercial landscaping, science strikes once again. This time, we find evidence that moments spent in green spaces can not only lower cortisol levels, but also improve cognitive function, enhance social cohesion, and bolster productivity and creativity.
Meanwhile, research from the University of Michigan highlighted that serenely landscaped areas can actually help to lower our blood pressure, positively impact our memory, and even increase our longevity.
Gwen Dewar, PH. D, of Parenting Science shares with us, "Green spaces can have a protective effect on our mental well-being. We're quicker to recover from stress, and less likely to experience depression." Within an era that often leaves us feeling thin on both mental an emotional resource, a daily backdrop of bountiful landscaping can provide a big boost.
Easing Our Minds with Environmental Benefits
We mentioned the air-purifying properties of green spaces tended by your commercial landscape contractor, but that isn't the only example of a device that plants beat to the punch. In fact, the beautiful borders, lawns, and trees around your commercial premises are actually serving as a natural air conditioner too.
If you're thinking, that must be achieved through shade creation alone, then think again. In fact, plants reduce outdoor temperatures not only by shielding the soil from the sun, but also through a natural mechanism called evapotranspiration.
The result? Well, manifesting spectacular commercial landscaping around your office or operational site can actually reduce surrounding temperatures by as much as 20º-45º Fahrenheit. When grappling with the heat of Bay Area summers, that means a leap forward in terms of comfort, and potentially lower bills for the artificial air-conditioning units that are likely buzzing away indoors!
With air quality covered, before we move on, let's turn our attention to water. Did you know that your commercial landscape company plays an important role in protecting local waterways?
This is because verdant planting and well-tended lawns act as a protective shield, absorbing water-based contaminants, preventing unhealthy water runoff, and acting as a filtration defense for our storm water, underground water systems, and ultimately our rivers and oceans.
Nurturing Drought Resilience
A thirsty plant might not seem like the ultimate solution to the challenge of water shortages, but when many stand together, our commercial landscape designers discovered a green army that defends against the very worst impacts of drought. The commercial landscaping that will so impress your clients holds another super-power.
It captures organic matter where it falls, creating a sponge for water, and a space in which life can confidently sprout. Ultimately, a thriving miniature eco-system forms that will serve as a resilient oasis for nature whenever the weather becomes extreme.
When your commercial landscape contractor mindfully combines densely layered plants with aesthetically pleasing and low-maintenance mulching, the soil beneath is safeguarded, holding nutrients where plants will use them, rather than allowing them to escape to where they wont be welcome.
This approach by commercial landscape designers, protects against erosion, which in turn benefits walkways, roads, streams, and waterways. Applied widely, the risk of flooding, mudslides, and dust storms can be mitigated.
For clients and employees alike, there is so much to be enjoyed! If you are ready to take your outdoor areas to the next level—for every reason above and more—turn to a seasoned and impassioned commercial landscape service.
Our commercial landscapers here at FloraTerra are always here to assist, so contact us today to discover how we can help you reap the rewards of truly spectacular landscaping.
Are you getting the most from your outdoor green space?
Call 408.275.1200 or Click Below.

ABOUT US
FloraTerra and our affiliates are conveniently based throughout the greater bay area. As a leading commercial landscape company, we specialize in homeowners associations, condominiums, corporate campus developments, commercial office, retail centers and common interest developments. Since 1998, our company and partners have installed and maintain some of the most prestigious commercial developments throughout the Silicon Valley.
WE GO WHERE YOU GO!
| | | |
| --- | --- | --- |
| Santa Clara County | Alameda County | San Mateo County |
| Silicon Valley, CA | Fremont, CA | Palo Alto, CA |
| San Jose, CA | Newark, CA | Menlo Park, CA |
| Santa Clara, CA | Union City, CA | San Carlos, CA |
| Sunnyvale, CA | Hayward, CA | Redwood Shores, CA |
| Mountain View, CA | San Leandro, CA | Redwood City, CA |
| Cupertino, CA | Alameda, CA | Foster City, CA |
| Milpitas, CA | Dublin, CA | Burlingame, CA |
| Morgan Hill, CA | Pleasanton, CA | Daly City, CA |
| Gilroy, CA | Livermore, CA | South San Francisco, CA |