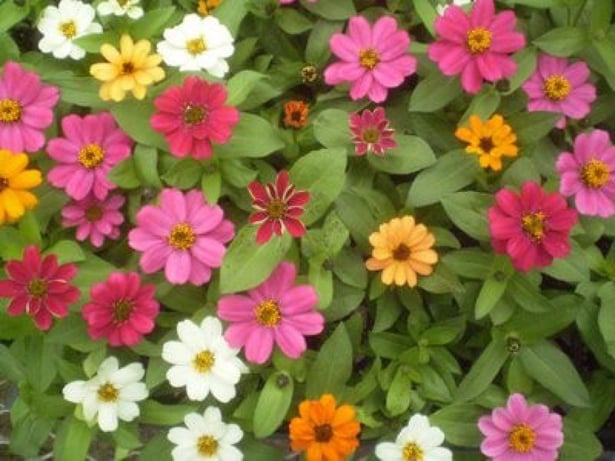 Everyone loves a splash of color. Whether seen framing your property's elegant entrance, decorating its most enchanting outdoor areas, or boosting its curb appeal, a vibrant display of flowers always works wonders for grabbing attention and enhancing everyone's sense of well-being.
With beautifully blossoming landscaping on the wish list of contemporary commercial properties across the Bay Area, it is key to consider the unique challenges of our local climate and select flower varieties appropriately.
Bright clusters of annual beauties do represent an investment that should offer proportionate return, and perennial varieties need to be resilient enough to live up to their name, and keep on giving!
Happily, there are a number of marvelously reliable and visually stunning flowers to choose from—we simply need to know which ones to seek out.
If you are keen to bring an energetic palette to your commercial property's façade, then why not ask your bay area commercial landscape company about these varieties—or better yet, turn to FloraTerra Landscape Management, who are ever-ready to deliver tailored landscaping aesthetics, suited to your property's unique micro-climate and aspect, for the very best results.
The Verdant Flower Varieties That We Love
Of course, the right flower variety to adorn the surroundings of your office, retail space, HOA, or other commercial property type has a number of requirements to satisfy.
Beyond a show-stopping look, the ideal flower choice will be a commercial low-maintenance dream, robust in the face of drought, and—all importantly—ready to offer a long-lasting bounty of blossoms.
When the right varieties are united, the floral show can go on and on! So, let's explore some of our favorite go-to varieties for bringing commercial properties in the Bay Area into bloom.
1. The Many Colors of Zinnia: Profusion
Zinnia is always a versatile annual, offering a rainbow of vibrant shades and fantastic tolerance of both the harshest of droughts and fog-accompanying mildew. However, among its ranks, Profusion serves as a particular grail for Bay Area flower lovers.
This phenomenally stress-savvy plant serves wonderfully in large plantings, making it a great choice to fill bare areas, as a decorative edging option, or to deliver eye-catching sweeps of abundant color at entrance ways. Zinnia is also entirely happy in containers, so all manner of aesthetics can be achieved.
Profusion is available in a range of different hues, including whites, yellows, oranges, and pinks, as well as in double-flowered forms. As an added bonus, this charming addition to your commercial landscaping will also attract butterflies, making the display all the more irresistible to passers-by.
2. The Cool Blues and Smokey Pinks of Salvia
According with HOA Landscape Specialists, ornamental salvias provide resplendent spires of rich color that simply last and last. Their dense towers of blossoms and attractive foliage don't blink an eye as the powerful rays of full sunshine bear down upon them.
Their deeply hued flowers draw the eye beautifully at a distance, and do an upstanding job when set against contrasting colors—for example, with rich blue salvias complementing a pale foliage backdrop.
3. The Endless Bold Blooms of Nepita Fassenii
If brilliant blues sound utterly appealing, then we would be amiss to skip over the prolific blooms of Nepeta Faasenii. This easygoing blossom is one of the easiest to maintain by Bay Area commercial landscapers, so its popularity is understandable.
The variety of striking blue tones available offer a charming softness to urban environments that serves as a welcome contradiction to this plant's hardy and undemanding nature. Entirely unphased by slight drought, these flowers will draw attention throughout the summer season.
4. The Sweeping Elegance of Romneya Coulteri
Those in the market for large and impressive blooms need look no further than Romneya Coulteri, otherwise known as the Matilija Poppy. Reaching a statuesque 4-6ft height, the refined gray foliage of this enchanting plant is soon adorned with vast white flowers—reaching some seven inches across—with crinkled petals and a yellow center.
Such substantial blossoms serve as a fantastic draw for birds, butterflies, and bees, while human admirers will be lulled by the Matilija Poppy's delicate fragrance.
This floral choice is versatile, making its home with ease in partial or full sun. It prefers well-drained soil, is hardy to near 0ºF, and stands up to drought with unwavering grace.
5. The Joyful Sunset Hues or Drought-Resistant Lantana
Anyone who enjoys the floral landscapes of the Bay Area will surely be familiar with the tequila sunrise-esque hues of Lantana. This firm favorite is ideal for HOA & Condo Landscaping Designers, and can actually be found in a range of further colors, including orange, white, lavender, and yellow.
This distinctive favorite boast clusters of small but vibrant flowers makes for a glorious landscaping addition, and once established this plant calls for very little maintenance, and impressively even less water.
If you dream of durable blooms that continue to give year after year, then Lantana should certainly be on your wish list.
Turn To a Trusted HOA Landscape Company For Your Flora
When harnessing the power of plants to put your property on the map, increase its value, and attract the very highest caliber of buyers, customers, or occupants, it helps to turn to an expert.
When it comes down to Common Grounds Maintenance, here at FloraTerra, we take great pride in having served many of the most prestigious communities across the Bay Area for the last 25 years.
They continue to turn to us for our impassioned HOA Landscaping Services and dedication to helping commercial entities meet their potential through flawless commercial landscape design and HOA Landscape Maintenance.
If you would like to know more about how we can transform your façade into a sea of flowers for the summer ahead—or indeed provide an array of other commercial landscaping services—don't hesitate to get in touch today.
Ready to Transform Your Façade into a Sea of Flowers?
Call 408.275.1200 or Click Below.

ABOUT US
FloraTerra and our affiliates are conveniently based throughout the greater bay area. As a leading commercial landscape company, we specialize in homeowners associations, condominiums, corporate campus developments, commercial office, retail centers and common interest developments.
Since 1998, our company and partners have installed and maintain some of the most prestigious commercial developments throughout the Silicon Valley.
WE GO WHERE YOU GO!
| | | |
| --- | --- | --- |
| Santa Clara County | Alameda County | San Mateo County |
| Silicon Valley, CA | Fremont, CA | Palo Alto, CA |
| San Jose, CA | Newark, CA | Menlo Park, CA |
| Santa Clara, CA | Union City, CA | San Carlos, CA |
| Sunnyvale, CA | Hayward, CA | Redwood Shores, CA |
| Mountain View, CA | San Leandro, CA | Redwood City, CA |
| Cupertino, CA | Alameda, CA | Foster City, CA |
| Milpitas, CA | Dublin, CA | Burlingame, CA |
| Morgan Hill, CA | Pleasanton, CA | Daly City, CA |
| Gilroy, CA | Livermore, CA | South San Francisco, CA |