Keeping your tenants happy and satisfied creates happy long lasting customer retention, especially with retail, office buildings and community spaces. Happy customers will stay and customer retention will keep your spaces occupied for long periods of time. There are many correlations between average and fantastic commercial landscape maintenance that help boost client retention. Beautiful landscaping creates an opportunistic value for your tenants to rave about your property when it comes to beautiful well maintained landscaping; as a matter of fact investing into your landscaping provides economic benefits that far exceed your costs because of the long term retention that boosts your leasing rates bringing in large sums of revenue.
Here are 5 ideas to help build long term loyalty and property value.
1. Landscaping Provides a Sustainable and Green Building
Recent surveys indicate that green sustainable buildings are very important to investors and owners. There are many ways to increase your green status in the area of LEED status that provides sustainability and happy tenants, some of the ways include water efficiency, native drought tolerant plants and trees and reducing your environmental foot print..
The benefits of sustainable landscaping practices include saving money. For example, installing drought restsinat palnts in place of lawn creates less maintenance and saves money on the amount of water needed. Smarter irrigation systems save water and money on water costs. Green walls moderate a building's appearance and Green Roofs lower the cost of electricity and energy—all while boosting the aesthetic buildings appearance and improving the overall perception of property.
2. Bay Area Landscaping Can Improve Property Value
A well-maintained landscape increases property values and makes properties more desirable. While improvements can add significant value to a property, some of these enhancements don't always provide 100 percent return on money invested … with the exception of landscaping.
Landscaping provides a significant return on investment for the money spent. Your property tenants want to be assured the property they lease is consistent with the increased rent space. By investing in well managed landscaping and improving its appearance through renovation you are driving up the perceived value of your property. Tenants pay good money for rent and they want the property to reflect the money they are putting into it.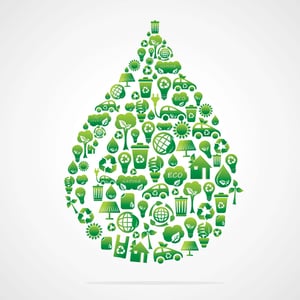 3. Landscaping Reduces Utility Costs
Shade trees that are planted on east-facing walls and windows and west-sides in the afternoon during the hot summer months will provide comfort in a building and lower the energy costs for cooling. In the colder months, trees that are located on the appropriate side of a building will help suppress shading and save property owners on energy costs.
Since commercial office properties consume large amounts of energy particularly with air conditioning and heating it is important for your to reduce your energy costs. Well positioned trees can boost energy savings for your tenants.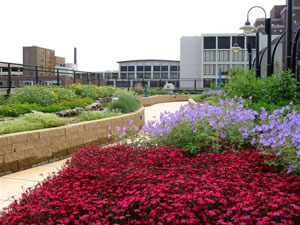 4. Beautiful Landscaping Draws the Right Attention
Well maintained bay area landscaping translates into shoppers staying longer in a retail setting and helps owners boost profits as a result. Trees provide comfort and shade making their visit comfortable and worthwhile creating a positive impression. Adding ornamental plants can even revitalize a stale business, bringing in more clients and improving its overall environment. Plants reduce stress levels, making shoppers and tenants feel more at ease, which increases time spent in the space.
Today, outdoor patio areas are very popular with tenants.Some commercial landscape maintenance companies are providing outdoor amenities, including seating areas, flowers and landscaping and paths, for relaxation, break away areas for outdoor meetings, lunch or leisure time.
Flowers are Popular. Plant foliage that changes with the seasons adds interest to a landscape. Soft or Bold borders are becoming increasingly popular in well-staged areas. Used In modesty, well maintained lawn areas also help the aesthetics of a property.
5. Your perception can be changed with Landscaping
Landscaping helps the perception of a community or commercial property. Well managed landscaping also curbs crime because beautiful landscaping revitalizes the environment attracting the right type of people. We can improve a landscaping setting with outdoor lighting, proper maintenance practices, as well as well-as the safety on your property. Tenants appreciate a safe and relaxing outdoor experience.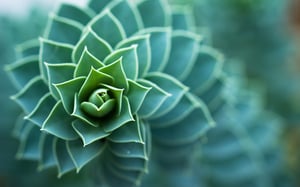 Show Off Your Landscaping Improvements
No what the status of your property, if the landscaping is beautiful and well maintained, it attracts customers and tenants.. Taking a step forward by improving your landscaping makes your property more appealing and inviting. FloraTerra can help you boost and attract retention rates. Give us a call at 408.275.1200 or click on this link to request our free consultation.
In the meantime, be sure to check out our 2015 Landscape Maintenance Guide below for more tips and trends to help your commercial property stay in demand and become more attractive, more valuable and more sustainable this year and for many years to come.
Let's CHAT about your landscape management services and how you can get the most value from a landscape management company, investing in a solid maintenance program. Give us a call any time at (408) 275.1200 — or
click here
and we'll get in touch with you!
Landscape Management Services
FloraTerra is a commercial landscaping company providing Landscape Management services including: Shopping Center Landscaping, Strip Mall Landscaping, R & D Developments, Luxury Apartment Landscaping, Residential Estate Landscaping, Home Owners Association Landscaping, Condominium Developments and Commercial Office Landscaping.
San Jose | Santa Clara | San Francisco Bay Area | Fremont | Sunnyvale | Milpitas | South Bay