Most people like to sit outside when there's favorable weather outside. And now that we are into fall starting to make its way to the San Jose area, occupants and employees are going to want to get out and explore the feeling of fall and winter.
You can provide the optimum outdoor space to for outdoor relaxation in your commercial office landscaping. Not only will it help them relax and enjoy their time outdoors, it will also keep visitors and tenants onsite, but the patio can also become a social gathering space for business meetings and create a more appealing property setting.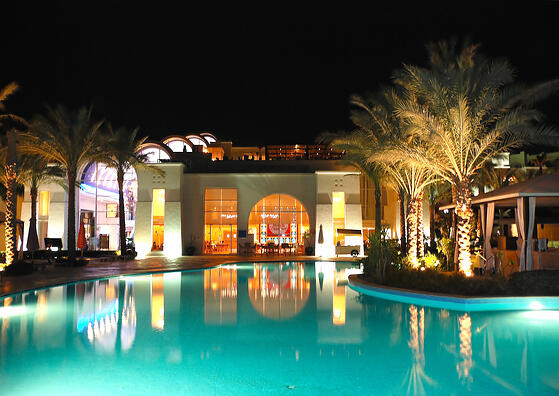 This outdoor space can be a real mood booster especially for people who like a change in scenery during work hours or just want to enjoy a quick break outside, instead of being indoors at a computer station or lunch room.
The Benefits of Breathing Fresh Air
With our Commercial Landscape Service, we notice the pressure to always be available and the workload not slowing down, more and more employees are choosing to take breaks and lunch breaks outdoors — and that can be detrimental for them and their companies. Going outside, even for a few minutes, can help benefit peoples mood and demeanor.
In the interim, choosing to go outside for a lunch will help with focus and creativity. Natural scenery, can lead to some of the greatest break through and change up the productivity when they arrive back to their office space.
Studies have shown that going outdoors can boost mental health. It has also demonstrated that green spaces can reduce blood pressure, stress, depression or anxiety. Getting outdoors has also proven to lower heart rates reducing the chance of heart attack or stroke.
Eating lunch outdoors will increase their overall happiness greatly, which can increase employee morale and attendance. One University scientist found when workers had their lunch on the beach, their happiness increased significantly, while their happiness decreased significantly when they took lunch indoors. You might not be located near the beach, but installing a patio or court yard break area can boost the moods and cognitive behavior of your staff and clients.
Providing a sunny outdoor exposure provides the benefit of natural vitamin D :
Decreases high blood pressure
Reduces anxiety and depression
Improves sleep quality
Boosts health and immune systems.
7 Commercial Landscaping Tips for Office Patios
Take the meeting outside for a fresh lunch. Transform your outdoors with comfortable lounging areas by provide outdoor heaters, landscape lighting and wireless internet. Transform your office space with these seven creative ideas.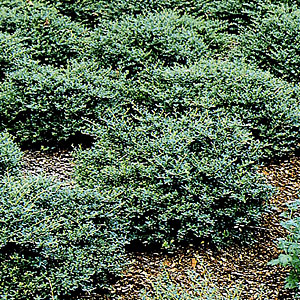 Soft Scape and Plants
Installing Soft scape and Plants in conjunction with your Commercial Office Landscape Management is one of the most popular trends for outdoor patios, and there are many options to choose from including drought tolerant plants like Agave, Nepeta and salvia will provide seasonal color during the warmer months.
For winter the fall and winter season, you can install flora like English prim rose and cyclamen. These plants will give your patio space pizzazz when everything else is semi-dormant. Evergreens trees and plants also work well with outdoor patios.
Fall and Winter is the ideal season to start your landscaping projects. The mild temperatures and added dampness will allow plants to acclimate to their new environment before next year's hotter temperatures.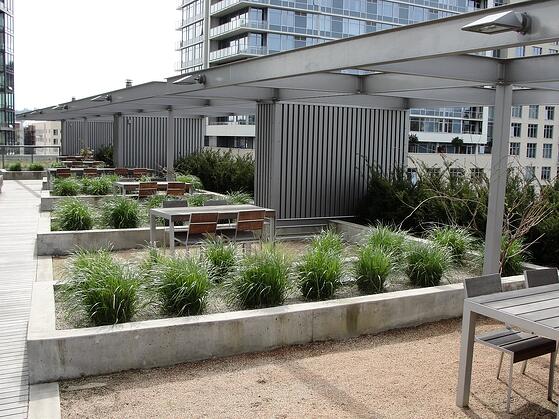 Water Art
Another consideration for your outdoor patio area is incorporating water features. From modern art design to water fountains, water incorporates a new relaxation element and focus for your outdoor environment.
Water adds a whole new element to your patio design and provides soothing sounds and effects, perfect for occupants or employees seeking the outdoor space for relaxation.
Studies have shown that the sound of soft flowing Water stimulates relaxation and soothes the nerves. The soothing effect of water suppresses back ground noises, vehicles and other city noise, so people can think, meditate and relax.
Cool Shade
Having a new patio area is less than best if the space isn't used effectively. It must incorporate all of the essentials for people to have an outdoor relaxation space.
Having shade is an important element in the patio setting; it can be a patio cover, shade cloth, patio umbrellas or overhead trellis. Only part of the patio must be be shaded, but make sure shade exists. It can get hot an uncomfortable without shade in the bay area, especially in the summer months, so incorporating shade is an important aspect to incorporate in a patio design.
Privacy Screening
A patio is the perfect place for outdoor relaxation, lunch or taking a break — but their must be screening provided to soften the effects of vehicles, pedestrian traffic or windows. Provide screening to give people the privacy for relaxation, eating and breaks.
Soft plant foliage can improve screening by making the area secluded and less visible. There are several evergreen trees that will grow in the medium height range of 10-20 feet tall, some of which include Magnolia, Bay Laurel and Tristania.
There are many options other than plants, you can install structures like retaining walls or free standing walls, green walls can create a softening effect in addition to making the area appear more natural.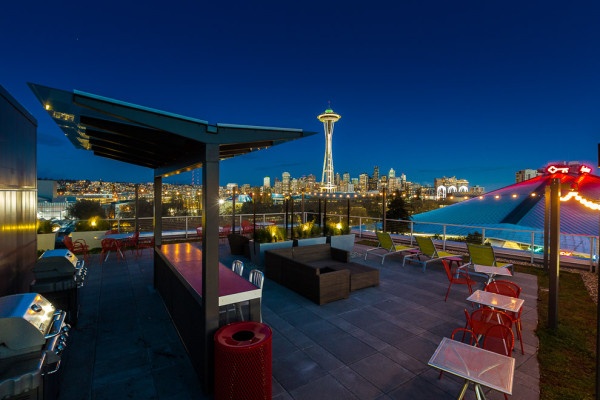 Lounging Area's and Outdoor Seating
You can also incorporate table tops and comfortable outdoor furniture in your commercial landscaping — like chairs, couches or seating benches in the patio. It's not very comfortable for relaxation in a patio without these furnishings.
Benches should have a back support feature, or make sure they are fixed adjacent to structures for added back support.
Lightweight aluminum seats are ideal for mobilizing in and around a patio area, if you want to take it up a notch or two consider incorporating colors as this will add to a more modern design.
Lounging areas will attract tenants and employees to these patio areas allowing for a social and relaxation setting. This new space will allow your staff and occupants breathing room to break away from a busy office setting. Plus, it's great for focus groups or individuals enjoyment.
Outdoor Lighting
Don't let the long nights and short days impede on your patio's use. Consider, staging soft lighting in and around the courtyard or patio area. By using low voltage or LED lighting, not only will these types of fixtures reduce your energy bill but will incorporate a safety and security element and ambiance.
Your Commercial Landscape Contractor can illuminate the patio by adding lights in and around trees or even stretch LED lights from the side of your building across the patio. If there's a walkway that connects to a court yards, you can illuminate path lights along this walkway..
Might Your Commercial Landscaping Benefit From A New & Improved Design?

There is no better time to upgrade your patio into an outdoor relaxation space. This new outdoor space has the capacity to allow space for outdoor meetings improve employees welfare, emotional and psychological health by giving them a space to recharge there batteries — making it more inviting, healthy and relaxing. It's possible that it might even help your company's bottom line to.
FloraTerra provides a Commercial Property Landscaping Service, including outdoor patio improvements and landscape renovation. Our experienced team will work with you every step of the way to create a perfect green space that will enhance your office buildings appearance and create a soothing environment.
Give FloraTerra Landscape Management a call at 408.275.1200 or use our simple contact form to set up a meeting with our Bay Area commercial landscaping team.

HOA & Commercial Lawn Maintenance
FloraTerra provides commercial lawn service , multi-residential landscape management services, retail landscaping in and around the south San Francisco bay area. Our commercial landscape care includes commercial landscape design for sustainability, landscape water management , Retail Mall Landscape Management, R & D Landscape Development, Luxury Apartment and Condominium Landscaping, Residential Estate Landscaping, HOA Community Landscaping Services for Multi-Building Developments, Commercial Office Park Landscaping and Corporate Campus Landscaping. Our landscape service territory extends throughout the greater South San Francisco Bay Area.
ABOUT FloraTerra Landscape Management
FloraTerra of Silicon Valley and its affiliates, are based in San Jose, California. As a leading landscape maintenance contractor for commercial and multi-residential properties, since its origin the company and its affiliates have installed and maintain some of the most prestigious properties throughout the San Jose and greater bay area. For more information about FloraTerra please visit us at: http://www.floraterra.com.
San Jose | Santa Clara | San Francisco Bay Area | Fremont | Sunnyvale | Milpitas | South Bay