Recent water shortages in the Bay Area have a placed a fresh emphasis on Commercial Landscape Companies for water conservation and the importance of making intelligent water management decisions.
But being efficient isn't just about conserving water – or even keeping costs low – although of course that's a big part of it.
Adopting smart water management policies also means delivering fantastic results within green outdoor spaces, in parallel with hitting the aforementioned desirables.
This is achieved by harnessing modern technology, delivering water to the landscape efficiently where needed most, and with just the right amount.
As an architect designs a LEED certified green building, commercial property owners and developers seek a well thought out strategy for energy and water efficient landscaping. They want a sustainable commercial landscape design that will meet the test of time.
A sustainable commercial landscape designer considers all aspects of the property with the objective of reducing outputs. It includes unique features that benefit our environment while transforming immediate surroundings into beautiful, water efficient outdoor spaces.
Forward thinking commercial landscape companies in the Bay Area, CA know that sustainable landscape design is the wave of the future. Read on as we explore why this aspect of commercial landscape design is so important, and how FloraTerra Landscape Management strikes the perfect balance of aesthetics and sustainability.
RESOURCES FROM OUR COMMERCIAL LANDSCAPE COMPANY
Beyond a shadow of a doubt, water conservation is a necessity in the Bay Area. By making this factor central to the creative process, our commercial landscape designers contribute to sustainability that not only saves money, but helps our environment too.
Most commercial developers and property owners care about reducing their carbon footprint because they understand how much their customers value an eco-friendly approach. For example, our HOA landscape company helps communities achieve their goals by reducing harmful emissions, and lowering their outputs, and our HOA landscaping service drives more value too.
Put simply, there are more commercial property owners throughout the Bay Area who want to be good stewards of the environment, but need the support and direction from a commercial landscape company who knows how to implement a sustainable strategy.
At FloraTerra Landscape Management, we wholeheartedly understand sustainable commercial landscape design and maintenance. Helping to conserve our natural resources and contributing towards a healthier planet is among our guiding principles.
We also want to preserve our natural local eco-systems; these are the very reasons that sustainable landscaping is one of our core passions. According with National Geographic, a bio diversity is essential part of sustainability as it contributes to a clean and healthy landscape environment.
SUSTAINABLE COMMERCIAL LANDSCAPING SERVICES
Not all commercial landscape contractors in Santa Clara County are created equal. At the end of the day, many commercial landscape companies find it easier to not operate in a sustainable fashion.
At FloraTerra Landscape Management, we're constantly looking for ways to improve our operations for conserving, preserving—and lowering harmful emissions, our fleet of equipment is quieter and less polluting compared to traditional gas-powered landscaping equipment.
We are always looking for new ways to upgrade our equipment infrastructure—in line with the latest advancements in modern powered equipment—we look at this as an investment into our future that contributes back to a cleaner and healthier environment.
As a commercial landscape company in Northern California , we value that investment because of the enhanced value it allows us to pass on to our clients, and their clients in turn.
OUR COMMERCIAL LANDSCAPE COMPANY SAVES BIG ON WATER
A premiere way in which we help our clients is to provide the means for them to conserve and save water. Facilitating excessive water usage is not only irresponsible way to operate a commercial landscape company, but it is an area that we constantly see being a challenge in our green industry.
It takes a lot of resource outputs to keep a landscape healthy, thriving and water efficient, but it can be done—and when it is done intelligently, not only does the landscape thrive, but the client is tangibly rewarded too.
For example, our commercial landscape design service includes smart water efficient features such as drought tolerant plants, minimal lawn areas and robust water efficient irrigation design that naturally conserves water, but it doesn't stop here.
Our commercial landscape designs minimize water waste using point source drip irrigation—applying water in the most efficient manor, where it's needed.
Our designs implement Rainbird Smart Watering Technology which makes daily adjustments based on local weather conditions and eco-systems, compensating watering run times based on real time data.
We also include automatic sensors that shut the watering system down during incremental wet weather, windy conditions or freezing temperatures.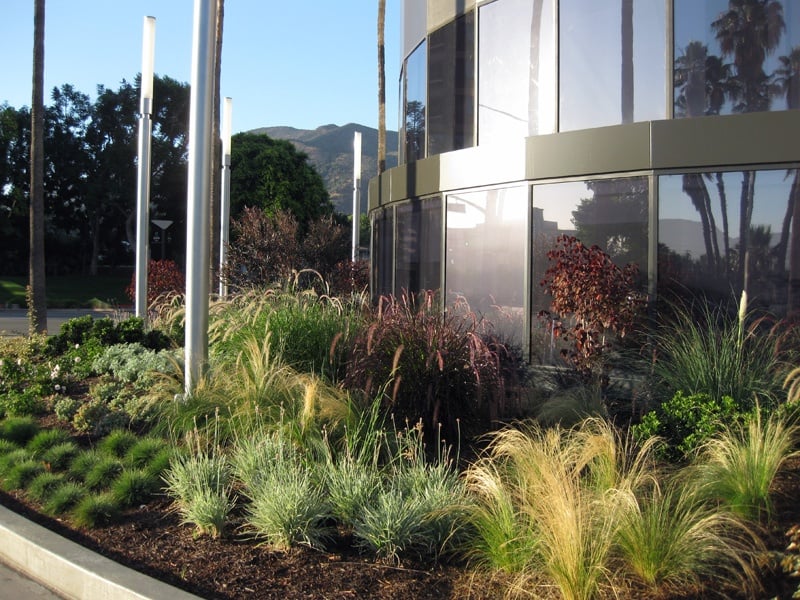 OUR COMMERCIAL LANDSCAPE DESIGNERS CUT WATER COSTS
Although we understand there is a unique place in a commercial landscape design for lawns, we recommend minimizing the size of the lawns because of their high maintenance and output requirements.
Not only do lawns need to be mowed 42-45 times per year, but it takes at least 35 gallons of water per square foot, on an annual basis to keep them green.
If the lawns will be mowed by an commercial lawn maintenance service, this also means additional vehicle fuel and labor costs to facilitate trips to your property. Happily, there are many fantastically aesthetic lawn alternatives to be explored.
Most of our clients that are interested in water conservation and sustainable landscaping are usually okay with less lawn—knowing that this strategy helps to reduce water and mowing costs. Within a more sustainable landscape design, using less lawn, we replace these open spaces with natural flowering perennials and evergreens.
These require a small fraction of the outputs; less labor, less water, and minimal commercial landscape maintenance. Drawing on another resource in our toolkit, we incorporate sustainable drought-tolerant grass varieties that minimize the resources required for maintaining those open spaces.
PLANT SELECTION WITH MATCHING MICRO-CLIMATE
Plant selection and placement are vital factors when it comes to sustainable landscape design. Most importantly, they contribute to lowering maintenance needs and enhancing water conservation. In order to claim these advantages, planting choices must be adapted to the local micro-climate and the property in general.
When it comes down to it, plant selection is incredibly important in commercial landscape design, and our skilled designers review every aspect of the property—including terrain elevations, solar exposure, wind, soil properties, and shade exposure. Considering all these things is what allows us to create a thriving and sustainable landscape design.
Ultimately, there are a lot of decisions that must be made for a successful, sustainable and low maintenance garden. The best choice is to put those decisions in the hands of a dedicated commercial landscape company that understands horticulture, environmental factors, and how to create the perfect design that meets your long-term goals and objectives.
COMMERCIAL LANDSCAPE DESIGNS THAT ARE SIMPLE AND INTELLIGENT
While the first objective in sustainable landscape design might be a reduction of outputs, the end goal is to manifest a commercial landscape design that is simple and intelligent, one that will look visually appealing to everyone who encounters it. Choosing appropriately designed sustainable landscaping means creating outdoor spaces that are resilient, use less of our resources, and provide stunning visual impact.
For one, a sustainable commercial landscape design helps a landscape acclimate to the local eco-system where it will survive and thrive despite global weather changes, droughts, municipal water restrictions and other challenging factors. This is the best path towards a thriving landscape that is low maintenance, aesthetically pleasing and will stand up to the test of time.
For another, when a sustainable landscape design is brought to life landscaping looks like it belongs. It fits in naturally, providing color and aesthetic interest throughout the year, just as nature does. Ultimately, this guarantees better results than forcing plants into a space in which they don't naturally belong.
In one example, there are plenty of HOA community home buyers in the San Francisco Bay Area who purchase their residence because of the ideal Bay Area location, economic stability, beautiful year-round weather, and a robust job market. When beautiful landscaping comes as part of the whole package, their choice of property is an obvious one.
Therefore, commercial real-estate developers who provide sustainable landscapes that enhance outdoor space, create comfortable tranquil surroundings, outdoor spaces where you can live, play and work, its natural that commercial property developers will achieve an edge in the market place.
COMMERCIAL DEVELOPERS CAPITALIZE ON SUSTAINABILITY
Another feature of sustainable landscaping that communities and land developers appreciate is the economic advantage of appreciating real estate value. Municipal mandates may be another factor we should consider—especially with the potential of major drought on the horizon.
For example, with water being such a precious resource, we might only see further mandates and municipal regulation for preserving and conserving water, making sustainable landscape design a prudent precautionary strategy indeed.
According with Pacific Retail, "74% of 18-29-year-olds prefer to purchase from sustainable brands. What does this mean for the CRE industry? The eco-age has arrived. That means electric vehicle charging infrastructure, tree-hugging tenants, LEED certification, reassessing landscape designs in development and partnerships with industry leaders of environmentalism".
Commercial and community home builders alike admire and appreciate commercial landscape designer who creates sustainable outdoor spaces.
According with Gene Ebertowski, President and Founder of FloraTerra Landscape Management, "It's worth noting that adopting a sustainable approach at a landscape's inception is much easier than transitioning later"—although that too can be done, and we'll come back to that later.
For these reasons and many more, commercial real-estate developers throughout the San Francisco Bay area understand and appreciate designs that are sustainable, and a selling point, too. Potential commercial clients prefer to lease properties that have sustainability built-in, and to partner with a developer that is planning for the future.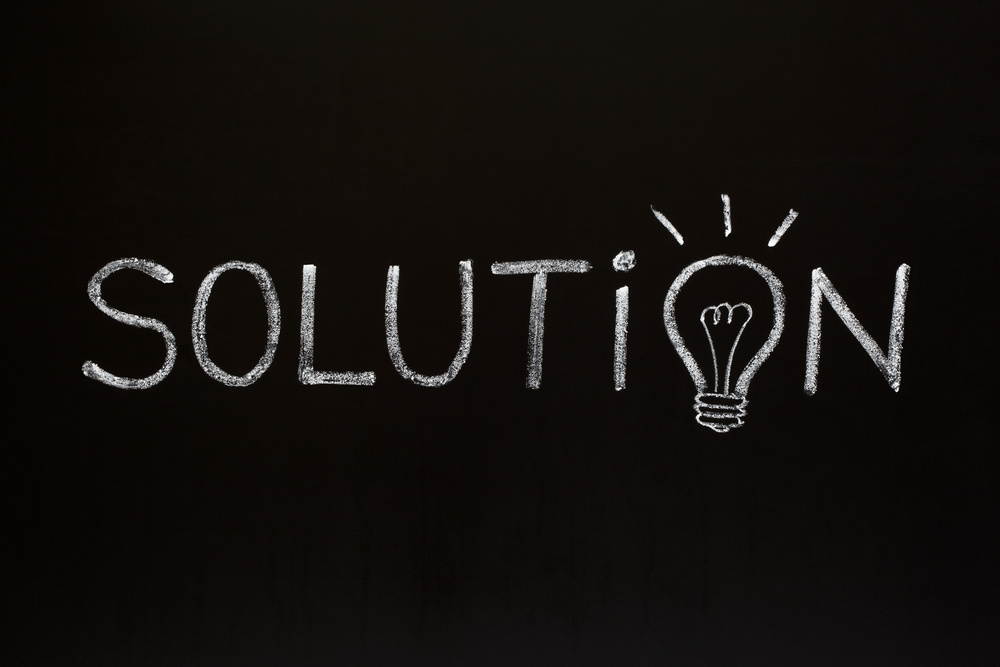 BENEFITS OF SUSTAINABILITY OUTWEIGH THE INVESTMENT
Although we do not think that cost is the key deciding factor for commercial clients who choose developments with sustainable landscape design, it is worth mentioning that this approach pays dividends in the future—especially within the context of scarce labor and high water costs.
While creating sustainable landscapes inevitably involves a significant upfront investment, over time the financial savings on commercial landscape maintenance and water will far outweigh the upfront cost.
For example, smart irrigation technology is more expensive to install than a traditional irrigation. However, the technology provides substantial and lasting savings on water rates.
Secondly, selecting water-wise plants requires much less maintenance and water than traditional landscaping. This will mean that your commercial office landscape service can use a minimal amount of labor for landscape maintenance.
Less outputs of resources in general will be required for maintaining an aesthetically pleasing outdoor environment. In contrast to all of that, when inappropriate plants are installed with no attention to sustainability, the need to replace plants quickly becomes expensive and uneconomical.
TRANSITIONING FROM TRADITIONAL TO SUSTAINABLE
While the best choice is always to start out with a water efficient, sustainable landscape design, sometimes a transition is necessary. If you have traditional landscaping in place and are unsure how to break through into a less thirsty and lower-impact commercial landscape maintenance experience, the team at FloraTerra can certainly help.
It's also important to note that sustainability should be implemented across the full scope of work in order to meet the end goal. After all, if you were to go through the trouble of having a sustainable landscape design created but then use ongoing maintenance services which do not prioritize sustainability, some of those benefits will likely be negated.
At FloraTerra Landscape Management, we create tailored sustainable landscape maintenance programs that helps our client's transition not only into the rewards of sustainable landscape design, but also bridging into the role of environmental stewardship.
Some of the resources that we harness to make this happen include the use of low emission powered equipment (as opposed to harmful emissions damaging our atmosphere); the use of safe and natural products that protect our eco-system; and by practicing Bay-friendly landscaping methods such as mulching, composting and recycling green waste.
CONTRACT WITH A COMMERCIAL LANDSCAPE PRO THAT PROMOTES SUSTAINABILITY
When you partner with FloraTerra Landscape Management, we have all the bases covered. From sustainable landscape designs to award winning maintenance, we have the experience, resources, and dedicated team to get it done. As a leading commercial landscape company in the Bay Area CA, we know that together we can achieve great things!
If you're looking for a Commercial Landscape Company in the Santa Clara Bay Area, Northern California, look no further. Call 408.275.1200 or Click Below.

ABOUT OUR COMMERCIAL LANDSCAPE COMPANY, SERVICING FREMONT, ARDENWOOD, SILICON VALLEY, MILPITAS, MOUNTAIN VIEW, SANTA CLARA, SAN JOSE, MORGAN HILL CA
FloraTerra and our affiliates are conveniently based throughout the greater bay area. As a leading commercial landscape company, we specialize in corporate campus developments, commercial office, retail centers and common interest developments. Since 1998, our company and partners have installed and maintain some of the most prestigious commercial developments throughout the Silicon Valley.
WE GO WHERE YOU GO!
| | | |
| --- | --- | --- |
| Santa Clara County | Alameda County | San Mateo County |
| Silicon Valley, CA | Fremont, CA | Palo Alto, CA |
| San Jose, CA | Newark, CA | Menlo Park, CA |
| Santa Clara, CA | Union City, CA | San Carlos, CA |
| Sunnyvale, CA | Hayward, CA | Belmont, CA |
| Mountain View, CA | San Leandro, CA | Redwood City, CA |
| Cupertino, CA | Alameda, CA | Foster City, CA |
| Milpitas, CA | Dublin, CA | Burlingame, CA |
| Morgan Hill, CA | Pleasanton, CA | Daly City, CA |
| Gilroy, CA | Livermore, CA | South San Francisco, CA |