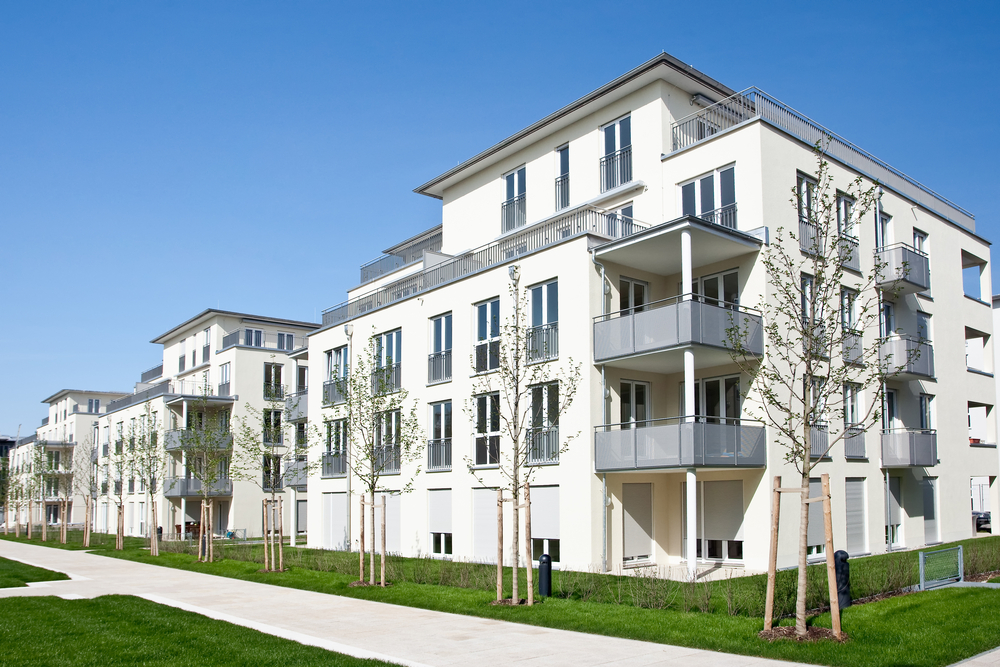 As much as we embrace modern technology when communicating with our commercial landscaping clients, we also know that there is much value to be found in verbal communication from time to time.
A periodic walk through of your property can provide useful information. This process can help our managers better understand your goals and aspirations, and assist in achieving the end result.
If you are hiring a commercial landscape company for the first time, then time spent on site is always useful.
We are here for you, whether your location includes older landscaping that requires high maintenance, full renovation, or a comprehensive commercial landscape design and installation service.
More importantly, a seasoned landscape professional at your side will be able to help you realize your end goals and wanted aesthetics! In contrast, if you are already a commercial landscaping client of FloraTerra, then you will know that top-notch communication is one of the key features of the service we provide.
Whether you are checking in with your assigned account manager or making service requests via our user-friendly FloraTerra app, our team are always only a button or a click away.
However, today, let's explore the value of periodic on-site walk throughs, and how you can make this experience even more rewarding.
Read on for our top tops for maximizing the yield of this energizing and insightful process.
COME PREPARED WITH NEW NOTES, FRESH IDEAS YOU HAVE NOT SHARED, YET
The maintenance of any commercial landscape design will incorporate countless details, decisions, and features.
Without handy notes to refer to, it can be challenging to communicate everything that is on one's mind. So why not prepare your ideas ahead of your property walk through so that nothing gets missed?
You may have noticed that occupants have taken to cutting across a particularly beautiful flowerbed and are causing harm, or that a tree root has begun to crack an area of pavement.
You may have spotted a leak that is only noticeable when the irrigation system is running, or you may want to know if the edible garden of your dreams will work in the space you have envisioned for it!
Whatever the detail may be, come prepared and we will be sure to explore each item in detail.
TRAVERSE YOUR LANDSCAPE IN THE SAME PATTERN
We realize that it takes time and effort on everyone's part to plan and participate in a site walk through.
With that in mind, establishing practices for efficiency is important, and one of the very best is repeating a consistent travel direction during each meeting. It may be some time since our last shared walk through, but a repeated format will jog our memories and allow you to compare current realities with past observations.
This structure can aid your commercial landscaping service in setting important agenda points for next time, and creating a dependable format for checking off associated tasks.
DOCUMENT SUGGESTIONS, AGENDA AND DISCUSSIONS
Your trusted commercial landscape company will certainly be engaged in recording notes for discussions, including images of plants or features in need of service, and considering important agenda.
A future list of landscape improvements topics should be discussed, scheduled, and set for future planning—this agenda can then be tracked through your service app, driving important decisions about how your commercial landscaper should proceed.
By being attentive to this process, you will be able to leverage your contractor's service experience of landscaping potential, likely remaining on point for exceeding your requirements!
TOPICS FOR FUTURE PLANNING
The agenda that you and your commercial landscape contractor plan will likely be around the unique features of your landscaping, your targeted budget, long-short term goals, and any pertinent details that should be scheduled for targeted dead lines etc.
To that very point, certain discussions are always useful for a productive meeting, as collaboration is key!
SUBJECTS TO EXPLORE MAY INCLUDE:
Seasonal activities and the need for sculptural pruning and trash removal
Targeted zones that are in need of renovation
Climate appropriate plant types that are water efficient
Water management for Drought Restrictions
Lawn Maintenance, Dethatching, Aeration and Seeding
Remedial for antiquated property
Water Conservation Goals and Bay Friendly improvements
Mitigating Safety and Liability Concerns
Erosion Control, Hydro-Seeding and Soil Stabilization
Landscape Planning and Future Budgeting
EXCEPTIONAL COMMUNICATION FOR YOUR TARGETED AGENDA
Upon completion of your meeting, anticipate the need for flexibility and changes for targeted dead lines and projects. However, don't forget that transparent communication is always available through our various service technology here at FloraTerra.
You can always contact us through various platforms that are available to convey something that wasn't covered, share a new idea, photo, or identify and communicate a recent service request that must be completed.
Whether you manage an apartment community, common interest property, office buildings, a retail power center, we at FloraTerra remain ready to serve you you.
We provide exceptional service, transparent communication, fast response time and a strong work ethic to support you. If you are ready to collaborate with our commercial landscape company, we are ready to serve! Connect with our team today to find out more.
Call 408.275.1200 or Click Below.

ABOUT US
FloraTerra and our affiliates are conveniently based throughout the greater bay area. As a leading commercial landscape company, we specialize in homeowners associations, condominiums, corporate campus developments, commercial office, retail centers and common interest developments.
Since 1998, our company and partners have installed and maintain some of the most prestigious commercial developments throughout the Silicon Valley.
WE GO WHERE YOU GO!
| | | |
| --- | --- | --- |
| Santa Clara County | Alameda County | San Mateo County |
| Silicon Valley, CA | Fremont, CA | Palo Alto, CA |
| San Jose, CA | Newark, CA | Menlo Park, CA |
| Santa Clara, CA | Union City, CA | San Carlos, CA |
| Sunnyvale, CA | Hayward, CA | Redwood Shores, CA |
| Mountain View, CA | San Leandro, CA | Redwood City, CA |
| Cupertino, CA | Alameda, CA | Foster City, CA |
| Milpitas, CA | Dublin, CA | Burlingame, CA |
| Morgan Hill, CA | Pleasanton, CA | Daly City, CA |
| Gilroy, CA | Livermore, CA | South San Francisco, CA |