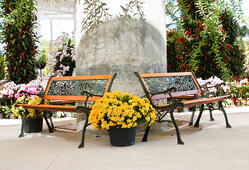 This is an important time of the year for many Bay Area property managers that are finalizing 2015 Years Budgets.
Establishing the appropriate landscape budget can help you control expenditures while planning for next year's budget. Your budget should include the appropriate line items like basic landscape maintenance, tree pruning and other related expenses, but there 3 New trends not to consider.
3 Trendy Landscape Improvements for 2015 Budget
While it's imperative that you plan accordingly for some of your wish list items, it's also important to budget for landscape improvements that will boost the aesthetics of your property. This is especially important for San Jose-area properties that are a decade or more in age competing with big box developers that have included all of the luxury style landscaping. These older properties should consider a renovation so they can become more marketable with the contemporary modern styles.
Plan to budget for the TOP 10 landscape improvements that are popular for outdoor amenities for San Jose Bay Area commercial properties.
Update Your Outdoor Commercial Landscape Lighting
Appropriate lighting for pathways, patio areas and building entrances are important for the safety of your property. As a commercial landscape maintenance service, we suggest being pro-active by reducing the likelihood of an issue happening before hand. But lighting can also maximize a property value and extend the aesthetics of your landscape into the night time hours illuminating its brand. Important areas include the illumination of monument signs, exterior art formations and outdoor patio furnishings.
Renovate Outdoor Court Yards and Improve Patio Furnishings
Creating areas where tenants, visitors and employees can gather together on a social level is essential in today's market place. Everyone likes to gather around outdoors! It's exciting to see that, outdoor furniture is the new trend that is becoming extremely popular amongst luxury apartment communities, retail centers and corporate campus developments creating a social environment that is comfortable to be around. Furniture colors are now available in colorful shades that create a relaxing atmosphere.
Add Outdoor Wi-Fi to your Bay Area HOA Landscaping
Technology is in the air. And just as wireless Internet is available at most public establishments and retail malls across the bay area, wireless Internet is also becoming a popular amenity at Bay Area commercial properties.
FloraTerra recommends it to all of its commercial property clients, especially those who manage corporate establishments of 40 to 60 people who are utilizing the outdoor spaces on a daily basis.
Need Help With Your 2015 Landscaping Budget?
Are you ready for 2015? Give FloraTerra a call if you need assistance, we can help! Our commercial landscape managers will assist you and your team with your top budget priorities and help you plan for a successful 2015.
Interested in Commercial Landscaping Improvements?
Give FloraTerra Landscape a call at 408-275.1200 or use our contact form to schedule a free no obligation assessment of your landscaping. And if you want timely landscaping tips for trees, please join to our commercial landscaping blog.
Commercial Landscaping in Santa Clara | Sunnyvale | San Jose
FloraTerra provides commercial landscape improvements. A San Jose landscaping company providing a complete range of outdoor landscaping services including tree pruning for shopping centers, landscape maintenance for Shopping Centers, Water Management for Institutional Landscaping, R & D Developments, Luxury Apartment Landscaping, Residential Estate Landscaping, Home Owners Association Landscaping, Condominium Developments and Commercial Office Landscaping.
San Jose | Santa Clara | San Francisco Bay Area | Fremont | Sunnyvale | Milpitas | South Bay|