It's easy to take Bay area lawns for granted. It keeps our property cool during the heat of the summer and adds instant curb appeal when it's healthy, green and in prime condition.
But the healthiest, lawns are maintained by a well-balanced lawn program! So, how can you keep your lawn looking great? Read on for our 5 best kept lawn care secrets.
Commercial Lawn Care Tip #1: Keep Mower Equipment Blades Sharp
In commercial lawn maintenance, keeping your mower blades sharp is one of the best ways to keep your lawn healthy helping to keep pests and disease from entering.. Using dull lawn mower blades actually damages the blades of your grass, making it more susceptible to injury and easier for insects and pests to move in.
There are many pests that can move into weak lawn areas including grub worms which must be controlled by your corporate landscaping services. Broadleaf weed control is necessary in lawn care. Weeds like clover and narrow leaf poa annua are among many of the weeds that will infiltrate into your lawn, especially if it's been mowed with dull lawn mower cutting equipment and will cause your lawn to be susceptible to pests.
Lawn blades are like a small solar panel. When more than 1/3 of the lawn blade is removed, you'll limit each blade's ability to absorb the sun rays, which depletes the photosynthesis cycle. With limited sun exposure, your lawn will not be able to effectively absorb the essential nutrients it needs to be healthy and lush!
A good rule is not to remove more than 33% of the total length in one mowing: Commercial landscape management removes no more than one-third of the total height of your lawn to keep it vibrant and green. Most lawns have a root structure equal to its height, so managing the amount of grass that you remove will help keep your lawn in a healthy growing condition, not to mention the benefits of less water that will save water in your commercial property landscaping.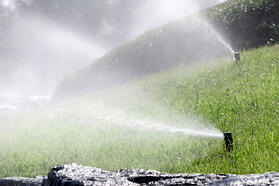 This tip is part of corporate landscaping and is in alignment with the mowing height: The longer your bay area lawn grows the less water it will require. And, if your grass looks semi green-Grey and does not bounce back after walking on it, it's time to recharge the root system with more water.
Commercial Landscaping Tip #4: Alternate Mowing Pattern
It's not just that the checker board pattern looks neat and manicured, either. Rotating the mowing pattern of your mowing equipment helps a lawn from being compacted and rutted, too. When you mow your lawn the same direction each time, it conditions the grass blades to grow in the same direction, and eventually looks like a worn down carpet. This is more of the case with reel type lawn mower equipment.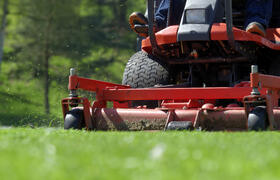 Commercial Lawn Maintenance Tip #5: Be on a Mowing Schedule
In commercial office landscaping which includes lawn mowing is very labor intensive and the highest maintenance of all . But robust lawn maintenance requires a routine mowing which plays a key part of your lawn health care.
If you want a great looking lawn, hire the right commercial landscape maintenance company.
To learn more, give us a call at 408.275.1200, or click below for a FREE property evaluation!
Corporate Landscaping Company in San Jose
FloraTerra is a commercial landscape company providing hoa landscape maintenance , retail landscaping in and around the south san francisco bay area. Our corporate lawn care includes a complete range of services appropriate for sustainable landscape design, landscape water management , Retail Mall Landscape Management, R & D Landscape Development, Luxury Apartment and Condominium Landscaping, Residential Estate Landscaping, HOA Community Landscaping Services for Multi-Building Developments, Commercial Office Park Landscaping and Corporate Campus Landscaping. Our HOA and community landscaping service territory extends throughout the greater South San Francisco Bay Area.
ABOUT FloraTerra Landscape Management
FloraTerra of Silicon Valley and its affiliates, are based in San Jose, California. As a leading commercial landscaping service for office and multi-residential properties.Since its origin the company and its affiliates have installed and maintain some of the most prestigious properties throughout the san jose and greater bay area. For more information about FloraTerra please visit us at: http://www.floraterra.com.
San Jose | Santa Clara | San Francisco Bay Area | Fremont | Sunnyvale | Milpitas | South Bay