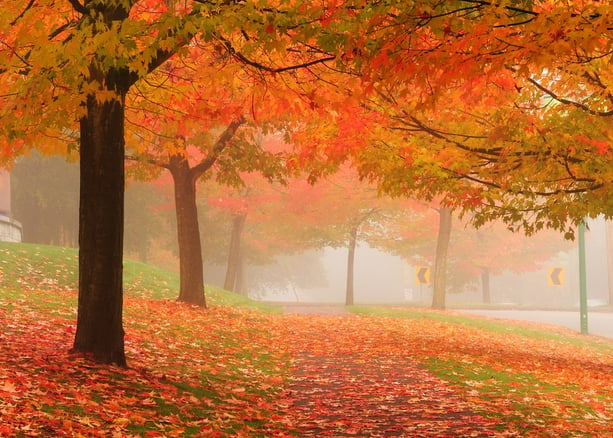 Our certified arborists care and appreciate your time- we can provide cost effective commercial tree trimming services San Jose. In the winter months when trees are dormant, our bay area certified arborists have a clear vision of your trees structure and can make the appropriate decisions for pruning. Tree branches are lighter and easier to access for pruning and clearance, and trees without leafs are much easier to see. With branching patterns being more visible and easier to see, the plant material can be pruned to encourage structural integrity and maintain its natural form.
A Commercial Tree Service Includes Pruning Trees in The Winter Months.
As a commercial tree service company, we perform most of our pruning in the dormant season which allow trees to heal at an accelerated rate compared to the warmer months and are more likely to resist pests-­vectoring disease. A commercial tree service understands that pruning during the late spring and summer seasons promotes the translocation of pest and disease activity in your trees. In the late spring and early months for example, pruning wounds transfer infectious fungal activity by certain types of insects like beetles. When a tree is fully defoliated in the winter months it's much easier to identify trees that have an isolated infectious disease or prior insect damage caused by borers for example, it's also easy to identify a treatment strategy for later in the year.
Preparing your plants for the winter allows for improved growth.
Trees are in a healthy state of well-being during the dormant months taking well to pruning, prior to the new growth emerging next season. Pruning after the development of new buds and lateral growth can impedes the plant's ability to flower for the coming year. One of the benefits of winter tree pruning, is it alleviates the added stress on trees, and promotes healthy new growth in trees & plants that have their appropriate blooming cycles in the spring and summer months.
Hiring a bay area arborist can make all the difference between success and failure. Planning ahead for winter tree care pruning pays BIG Healthy dividends.

Look for a Bay Area Arborist in San Jose
Our certified arborists are here to assist our property owners and building managers with all of their commercial tree maintenance needs. Properly cared for trees can increase the asset value of your property and beautifies its exterior appearance; but when not handled correctly can damage your trees and lead to a huge liability for your company.
Give FloraTerra Landscape a call at 408-275.1200 or use our contact form to schedule a free no obligation assessment of your trees. And if you want timely landscaping tips for trees, please click here to join our commercial landscaping blog.
FloraTerra provides commercial landscaping in Santa Clara and around the Bay Area. A San Jose landscaping company providing a complete range of outdoor landscaping services including tree pruning for shopping centers, landscape maintenance for Retail Shopping Centers, Water Management for Institutional Landscaping, Landscape Design for R & D Developments, Landscape Maintenance for Luxury Apartments, Residential Estate Design Build Service, Landscape Improvements for HOA, Sprinkler Repair for Condominium Developments and Sustainable Landscaping for Commercial Office Parks.
San Jose | Santa Clara | San Francisco Bay Area | Fremont | Sunnyvale | Milpitas | South Bay