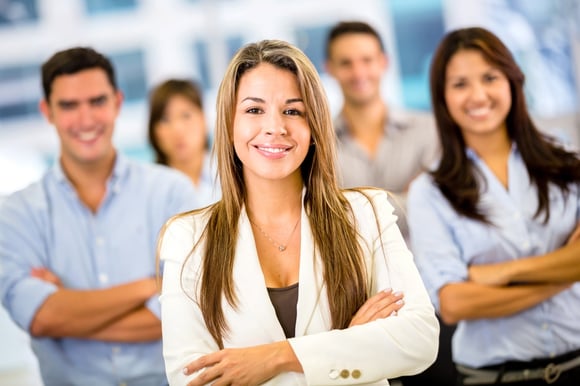 Within the world of business, first impressions are everything. Whether your commercial property serves as a retail space that must draw the highest caliber of customers, or a fast-paced enterprise with clients to impress and top-notch talent to attract, the power of commercial landscape design should never be underestimated.
Indeed, abundant foliage, curated green spaces, and façade-enhancing floral displays can all help to cement your endeavor as a cut above the competition. Our commercial landscape designers can help create the right environment for your employees unleash their true creativity and innovative potential, or help your tenants achieve the best possible well-being. With all of that in mind, what are you waiting for?
Of course, when it comes to commercial landscape design, it helps to know where to start. You're likely wondering which sorts of landscaping choices might give you the best bang for your buck, both in terms of visual results and and added property value.
To aid you in your quest, our dedicated commercial landscape design experts have weighed in on the property areas or tactics that they would prioritize first when aiming to enhance a commercial setting. Read on for ultimate inspiration, and give your business a landscaping boost!
1. Focusing First on Key Focal Points
We were talking in terms of first impressions, and giving areas that meet first contact your most dedicated attention will always reward. For example, if curb appeal is high on your priority list, then focusing on street-side areas will help you grab local attention and cause a desirable buzz.
Another exceptional area to add to your landscape transformation agenda is the space around walkways and primary entrances. Divine planting, fragrant specimens, and textured shade will make all who visit your property feel like they are stepping into a place of true excitement—which of course, they will be!
2. Creating Usable Exterior Spaces
Garden areas that look beautiful through the window are one thing, but spaces that have been designed to inhabit and use are even better. Landscaping that frame exterior seating areas creates the ideal place for staff to dine or brainstorm, co-workers to relax, or shoppers to pause before making their next purchase.
All manner of features ranging from patios to outside kitchens, fireplaces, or barbecue areas can all offer hours of enjoyment. Well-chosen exterior lighting can extend your landscaping's potential after dark—also highlighting natural beauty and improving nighttime security in one fell swoop.
3. Claiming Green Credentials
Modern consumers are more engaged than ever with low impact organic living and environmental awareness. Your commercial property's landscaping is an ideal opportunity to add an ethically-attuned aspect to your business credentials.
Whether you introduce drought resilient native planting, water-conserving irrigation technology, or an organic edible garden that those frequenting your property can dip into, the added green credentials are certain to provide an appealing edge over any rival enterprise.
4. Wowing Visitors With Abundant Floral Displays
Jaw-dropping swathes of vibrant flowers don't have to represent a vast investment. Achieving such beauty in the Bay Area is simply a case of understanding which flower species are best suited to our drought-inclined climate, as well as which will provide outstanding value with long-lasting blossoms that just don't quit!
Depending on the tone of your business and the architecture that the flowers in question will frame, you may prefer energetic and bright floral displays or serene and elegant decorative flower borders. Whatever the desired aesthetic, the result can certainly be achieved with the aid of local expertise.
5. Intelligent Landscape Architecture
Depending on the nature of your unique commercial property, you may wish for surrounding landscaping to draw attention to resplendent architecture that deserves to be noticed, or you may hope for guidance in using plants to transform an uninteresting structure into something worthy of admiration.
A landscape design specialist will know exactly how to highlight, enhance, or reinvent your property's architecture, delivering a flawlessly balanced aesthetic. Whatever its intended impression, the result should be seamless, complementary, and pleasing on the eye.
Turn To a Commercial Landscape Designer You Can Trust
The team here at FloraTerra Design Group come to you with more than 25 years experience designing, developing and maintaining large corporate campuses, industrial condominiums, homeowners associations and multi-use properties across the Bay Area. Our commercial landscape designs conserve water, enhance your exterior, increase property values and reduce your monthly maintenance costs.
For More Information, Please Call 408.275.1200 or Click Below.

ABOUT US
FloraTerra and our affiliates are conveniently based throughout the greater bay area. As a leading commercial landscape company, we specialize in homeowners associations, condominiums, corporate campus developments, commercial office, retail centers and common interest developments. Since 1998, our company and partners have installed and maintain some of the most prestigious commercial developments throughout the Silicon Valley.
WE GO WHERE YOU GO!
| | | |
| --- | --- | --- |
| Santa Clara County | Alameda County | San Mateo County |
| Silicon Valley, CA | Fremont, CA | Palo Alto, CA |
| San Jose, CA | Newark, CA | Menlo Park, CA |
| Santa Clara, CA | Union City, CA | San Carlos, CA |
| Sunnyvale, CA | Hayward, CA | Redwood Shores, CA |
| Mountain View, CA | San Leandro, CA | Redwood City, CA |
| Cupertino, CA | Alameda, CA | Foster City, CA |
| Milpitas, CA | Dublin, CA | Burlingame, CA |
| Morgan Hill, CA | Pleasanton, CA | Daly City, CA |
| Gilroy, CA | Livermore, CA | South San Francisco, CA |