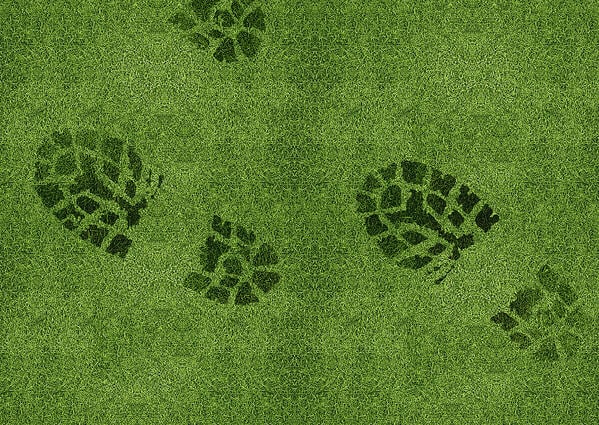 Just as businesses across the Bay Area begin to enjoy recovery from the loss of crucial foot traffic caused by the pandemic, many are also being reminded of the challenges that come when pedestrians cut through landscaping in unhelpful ways.
When a clipped lawn area or gap between bushes becomes a frequent thoroughfare, the overall aesthetic of commercial landscaping can quickly take a knock. However, a trusted landscape design company is the perfect ally in remedying this situation. Read on for some top FloraTerra tips on mitigating the negative impacts of foot traffic so that it can return to being a welcome metric for your enterprise.
1. Designing Landscaping to Support the Flow of Foot Traffic
Without a doubt, foot traffic is an important metric for all kinds of businesses, however, what if many existing or potential customers are simultaneously reducing your return on investment made in high-caliber commercial landscape design?
The best way to avoid this potential problem is to design landscaping in a way that supports the organic movement of visitors through and across the space. A seasoned commercial landscape architect will always weigh this important factor when designing a green area. However, even existing landscaping can be modified to improve how it is traversed.
2. Creating Green Scape Barriers to Steer Visitors
A dense and bright bank of hedging or shrubs is ideal for discouraging pedestrians from leaving their designated pathway. It doesn't need to be high enough to block sightlines, so can easily be incorporated into a pre-established or envisioned aesthetic.
As our experience landscaping countless public spaces across the Bay Area tells us, when a cut-through is no longer convenient and the existing path is pleasant to use, the vast majority of people will move as intended.
3. Modifying Existing Designs in Response to Corner Cutting
If current paved or graveled walkways aren't the fastest way to get from point-A to point-B, people are bound to take advantage of any opportunity to cut through. However, a strategic course correction doesn't have to be overly complex or costly.
It may simply be a case of "giving in" to preferred routes and adding additional paths, or changing certain plant choices to minimize risk of damage—which is something we'll come back to momentarily.
Whenever we adapt San Jose retail and mall landscape design—to name but a single commercial landscape type among many—we find that sometimes the best tactic is to accommodate the route that people truly want to take. Adding in a new gravel or paved path can be a relatively inexpensive way to enhance safety, lift aesthetics, and reduce dirt carried into your buildings all at once.
4. Choosing Foot Traffic-Friendly Grasses and Ground Cover Plants
When modifying path routes is off the table, another excellent solution is to substitute existing plants with more robust grasses and groundcover suitable for high foot traffic areas. While some species quickly die back due to the compaction and wear of trampling, other plants are impressively well adapted to spring back underfoot.
The team here at FloraTerra Landscape Management will gladly work with you to assess your trouble spots and identify whether plant substitutes will be enough to mitigate the problem, and if so, which will be best suited to your property's unique location and micro-climate.
5. Considering Intended Use in All Areas of Landscape Design
If our experience in commercial Bay Area hardscape design and construction has taught us anything, it is that intended use is an essential variable for any attractive landscape design. In fact, this is not only true for hardscaped walkways but also soft areas including lawn, recreational zones and seating areas.
Crucially, with our assistance, you can take control of how your welcomed visitors, residents, or customers utilize the green areas that offer such a draw. Not only thoughtful path design and soft scape barriers can be added, but also strategic lighting, benches, and other features to encourage each areas use in the way that you imagine and desire.
For a commercial landscaping partner that understands how to innovate when framing your property with green spaces, look no further than the FloraTerra Landscape Design Group. From highly skilled landscape architects to irrigation and drought resilience specialists and seasoned professional landscape maintenance contractors, we are a single-source destination for all things relating to realizing the best commercial landscapes. To find out more or get a quote, connect with our team today.
Call 408.275.1200 or Click Below.

ABOUT US
FloraTerra and our affiliates are conveniently based throughout the greater bay area. As a leading commercial landscape company, we specialize in homeowners associations, condominiums, corporate campus developments, commercial office, retail centers and common interest developments.
Since 1998, our company and partners have installed and maintain some of the most prestigious commercial developments throughout the Silicon Valley.
WE GO WHERE YOU GO!
| | | |
| --- | --- | --- |
| Santa Clara County | Alameda County | San Mateo County |
| Silicon Valley, CA | Fremont, CA | Palo Alto, CA |
| San Jose, CA | Newark, CA | Menlo Park, CA |
| Santa Clara, CA | Union City, CA | San Carlos, CA |
| Sunnyvale, CA | Hayward, CA | Redwood Shores, CA |
| Mountain View, CA | San Leandro, CA | Redwood City, CA |
| Cupertino, CA | Alameda, CA | Foster City, CA |
| Milpitas, CA | Dublin, CA | Burlingame, CA |
| Morgan Hill, CA | Pleasanton, CA | Daly City, CA |
| Gilroy, CA | Livermore, CA | South San Francisco, CA |