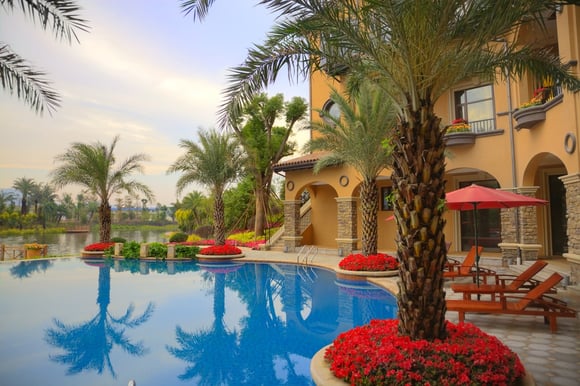 When it comes to HOA landscape services, it's easy to imagine that costs could be a bit of a runaway train. How exactly does one quantify growing plants or weather patterns—can nature truly be captured in charts and numbers?
While it's true that we can't always know what the future will hold precisely, an experienced commercial landscape designer is just the ally you need to design and prepare a sturdy and dependable landscaping budget. Their know-how will help you make sense of your goals—in a way that sees abundant green spaces accommodated through tangible and affordable steps!
Starting off on the right foot means developing a forward-thinking strategy that will safeguard against the unexpected while seeding steady progress in all areas. In this endeavor, a commercial landscape company with a great track record for budget planning will not only be able to help you draw together all the data, facts, and figures that you need, but also pinpoint ways in which you can increase efficiency and reduce landscaping costs in the long run. Read on to discover the elements that go into building a brilliant budget that will yield welcome results.
Start Off by Painting a Clear Picture of Your Goals
One of the biggest pitfalls encountered by homeowners' associations when it comes to homeowners' association landscape maintenance is falling into a pattern of reactive rather than proactive spending. For example, when managing an older site, failing to assess the condition of infrastructure can bring nasty surprises when a significant chunk of it has to be replaced at once, or something breaks in a way that causes costly damage!
Proactive budget planning means forging awareness of the necessary repairs and upgrades ahead, as well as any new development aspirations. By working through this with your trusted HOA landscape maintenance company in Redwood City Ca, you can lay out a clear plan for the next 5 years, and even pencil in some great goals for after that. In balancing these factors, building a clear budget becomes entirely achievable, with projects in the pipeline kept in proportion alongside ongoing landscape maintenance. In this way, peace of mind can be found in knowing exactly where you stand.
Identify Opportunities for Cost Reduction
Many at the helm of sizable HOAs are surprised to discover that the property is packed with potential for landscaping cost reduction. Contemporary approaches to HOA landscape management are far more resource-mindful than they were in yesteryear, and there is much to explore in terms of shrinking maintenance costs and improving water conservation.
A Redwood Shores HOA landscape contractor will be well equipped to assess your outdoor space, area by area. They will be looking for opportunities such as replacing thirsty and high-maintenance lawns with drought tolerant ground-cover, improving irrigation efficiency, introducing low-demand native plant species, reducing erosion for better water retention, and much more. With the right adjustments, landscaping costs can be down-sized dramatically while aesthetics are actually enhanced. Now, that's good value!
Embrace Modern Landscaping Techniques for Cost Efficiency
In a world that increasingly sees energy and water costs surge, embracing modern water technology and conservation-centric approaches has never been more relevant. Collaborating with an HOA landscape service that is ahead of the curve in these areas can mean tapping into long term savings in a powerful way.
For example, a forward-thinking commercial landscaping contractor will be able to advice on modern irrigation equipment such as smart controllers, which can save an average of 25%-40% of water usage. Upgrading to this kind of infrastructure not only gets on top of water waste issues, but also means optimal automatic daily adjustments, based on weather and temperatures. If that's not truly efficient and—all importantly—money-saving innovation, then we don't know what is!
You can spot indications that an HOA landscaping company has their finger on the pulse by looking out for things like use of low-noise and energy efficient equipment, harnessing protective practices such as mulching and drought-aware planting, and a strong sense of how to assess and address water usage. Certainly, anything less is likely to leave you out of pocket in the long run.
Leaving Room to Maneuver Provides Lasting Prosperity
A trusted landscape management specialist won't be trying to max out your budget. Instead, their goal should be to help you realize your aspirations, while leaving a little room to maneuver!
The reality is that, despite the best laid plans, the occasional unexpected event will always come along. It might be a big water main line leak causing erosion underneath heavily trafficked asphalt, or it might be the grandfather tree of your HOA property dying unexpectedly. Whatever the impact, it's always nice to know that you'll be able to cover costs if something sideswipes your budgetary plans.
There are two essential elements to maintaining that all important wiggle-room. One is setting a realistic proportion of the landscaping budget aside as a buffer—this will be property dependent, and is best calculated with your landscape contractor's assistance. The second is striving to anticipate what might go wrong, and conceptualizing contingency plans that will carry you through if the worst should happen.
By being prepared, you can execute your HOA landscaping budget with total confidence. As you fine tune your budget items—including landscape management, water management, irrigation upgrades, tree care, landscape design, and installation projects—FlorraTerra is ready to assist. Contact our team today to learn more about how we can help you build a budget for success!
Are you ready to take the next step? Contact the Flora Terra team today!
Call 408.275.1200 or Click Below.

ABOUT US
FloraTerra and our affiliates are conveniently based throughout the greater bay area. As a leading commercial landscape company, we specialize in homeowners associations, condominiums, corporate campus developments, commercial office, retail centers and common interest developments. Since 1998, our company and partners have installed and maintain some of the most prestigious commercial developments throughout the Silicon Valley.
WE GO WHERE YOU GO!
| | | |
| --- | --- | --- |
| Santa Clara County | Alameda County | San Mateo County |
| Silicon Valley, CA | Fremont, CA | Palo Alto, CA |
| San Jose, CA | Newark, CA | Menlo Park, CA |
| Santa Clara, CA | Union City, CA | San Carlos, CA |
| Sunnyvale, CA | Hayward, CA | Redwood Shores, CA |
| Mountain View, CA | San Leandro, CA | Redwood City, CA |
| Cupertino, CA | Alameda, CA | Foster City, CA |
| Milpitas, CA | Dublin, CA | Burlingame, CA |
| Morgan Hill, CA | Pleasanton, CA | Daly City, CA |
| Gilroy, CA | Livermore, CA | South San Francisco, CA |