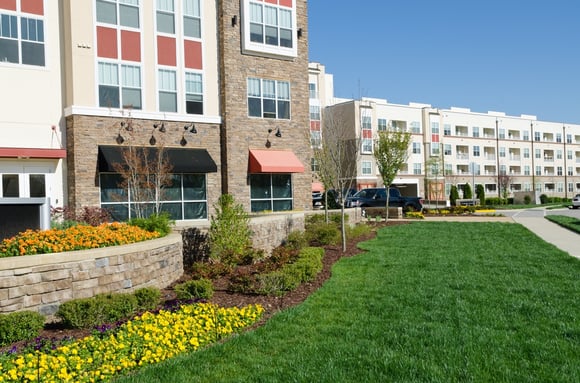 According to Realtor Magazine, commercial landscape contractors can serve as one of property owners greatest allies, potentially boosting property values by as much as 12%. With this in mind, those at the helm of homeowners associations are bound to want to leverage their outdoor spaces.
CONTRACT WITH A HOA LANDSCAPE PRO THAT PROMOTES SUSTAINABILITY
When you partner with FloraTerra Landscape Management, we have all the bases covered. From sustainable landscape designs to award winning hoa landscape maintenance, we have the experience, resources, and dedicated team to get it done. As a leading HOA landscape company in the Bay Area CA, we know that together we can achieve great things!
But choosing the right HOA landscape company is inevitably one of many items on the average HOA management to-do list. Those tackling the task for the first time can find knowing where to start a challenge, detracting from other important priorities.
Simultaneously, filling a role that will encompass all aspects of outdoor maintenance and aesthetic appeal needs to be done right. So, how does one select a world-class HOA landscaping company that will offer both value for money and appropriate expertise?
An HOA Landscaping Company That Understands
What You Do
Not all commercial landscaping companies are created equal—and while this can mean potential pitfalls for an HOA landscape committee or property manager, there is also a silver lining. Ultimately, there should be the option to partner with a landscape contractor who truly understands the complexities of creating a thriving HOA community, and how to support its success.
Budgeting for an HOA community can be a time-consuming process, particularly when it comes to simplifying the request for proposal process. From generating a RFP, through invitations, site meetings, analysis, and making a final selection, there are a great many steps at which the process might falter. Periodic landscape meetings, focus groups, vendor selection processes, and budget setting can each run far more smoothly with an experienced HOA landscape company only a phone call away. For the initial selections stage, the following tips will steer your HOA community well.
Pin-Point Your HOA Landscape Maintenance Needs
When considering the unique needs of any HOA property, it is immensely valuable to identify each unique function, before creating an overall roadmap of landscape maintenance needs. Tasks can be broken down into functions and frequency, spanning from weekly tasks such as lawn mowing, weeding, blowing, and edging; through to period tasks such as pruning, making repairs, and auditing irrigation; and infrequent tasks such as tree pruning, mulching, and applying people/pet-friendly organic pesticides.
Making a concise plan that takes all seasonal landscaping activities and gradual improvement into account will place you on the leading foot as you enter the RFP process. Beyond making your own initial assessment, asking contractors to provide their own proposal for potential landscape improvements can offer you further insight as well as a bounty of new ideas.
Seeking and Evaluating Proposals
While a lower cost is always aspired to, there are many factors to weigh up when considering an HOA landscape company's offered pitch. Getting at least three qualified proposals will allow you to compare and contrast the finer details of each one, including depth in relation to your informed future budget planning.
There is wisdom in caution when making comparisons; when something sounds to good to be true, it usually is! If an HOA landscape maintenance proposal is 15-20% below a competitors bid, it is very likely that something vital has been excluded. Examine each detail carefully to ensure that your requirements are all included, and remember that, as wishfully as we might hope to think, we ultimately get what we pay for.
Vetting HOA Landscape
Companies
Before engaging in the proposal seeking process, it is important to qualify each HOA landscape contractor under consideration. Potential candidates should be fully licensed, reputable, and poised to provide relevant references. The rule of three is going to be advantageous once again when contact is initiated. This is an excellent number of references to request—from similarly sized properties, ideally operating under a similar scope. Well established commercial landscape companies with a breadth of relevant experience and a deep understanding of the intricacies of HOA community management will be best suited to support you in your role.
Checking Over the Final Agreement
Once you have chosen the HOA landscape service that presents as the most qualified, there is one more self-protective step to take. Contractual agreements are made for a reason—ideally with the protections of both sides in mind. Scrutinize the final agreement to ensure that the full scope of your needs are outlined, and everyone's interests are safeguarded. Confirm understanding with all vested parties as a final precaution, to avoid potential surprises.
By establishing a clear understanding of the landscape maintenance needs of your HOA community, thoroughly vetting all possible landscape contractors, and practising due diligence, hiring a world-class HOA landscaping company is not only possible, but can be done efficiently. With the right landscape collaborators in place, you will be able to fully return your focus to the many other facets of ensuring your HOA landscape company flourishes in every sense.
Providing World-Class HOA Landscape Maintenance
As a full-spectrum HOA landscaping company with decades of experience, Flora Terra knows how to align seamlessly with the functional day-to-day running of any HOA community. Our teams work unobtrusively with minimal disruption to residents. We set the bar in terms of consistency and excellence, so that you can enjoy the rewards that only exceptional landscaping can provide. Flora Terra provides comprehensive landscaping solutions in and around San Jose, Sunnyvale, Santa Clara, Cupertino, Mountain View and the Mid-Peninsula Bay Area. To learn more about how we can serve your unique HOA property, contact our team today.
If you're looking for a World Class HOA Landscape Service in the Santa Clara Bay Area, Northern California, look no further. Call 408.275.1200 or Click Below.

ABOUT OUR HOA LANDSCAPE SERVICE IN FREMONT, ARDENWOOD, SILICON VALLEY, MILPITAS, MOUNTAIN VIEW, SANTA CLARA, SUNNYVALE, SAN JOSE, MILPITAS, MORGAN HILL CA
FloraTerra and our affiliates are conveniently based throughout the greater bay area. As a leading homeowners association landscape company, we specialize in mixed use developments, luxury apartments, master planned communities and common interest developments. Since 1998, our company and partners have installed and maintain some of the most prestigious HOA developments throughout the bay area.
WE GO WHERE YOU GO!
| | | |
| --- | --- | --- |
| Santa Clara County | Alameda County | San Mateo County |
| Silicon Valley, CA | Fremont, CA | Palo Alto, CA |
| San Jose, CA | Newark, CA | Menlo Park, CA |
| Santa Clara, CA | Union City, CA | San Carlos, CA |
| Sunnyvale, CA | Hayward, CA | Belmont, CA |
| Mountain View, CA | San Leandro, CA | Redwood City, CA |
| Cupertino, CA | Alameda, CA | Foster City, CA |
| Milpitas, CA | Dublin, CA | Burlingame, CA |
| Morgan Hill, CA | Pleasanton, CA | Daly City, CA |
| Gilroy, CA | Livermore, CA | South San Francisco, CA |