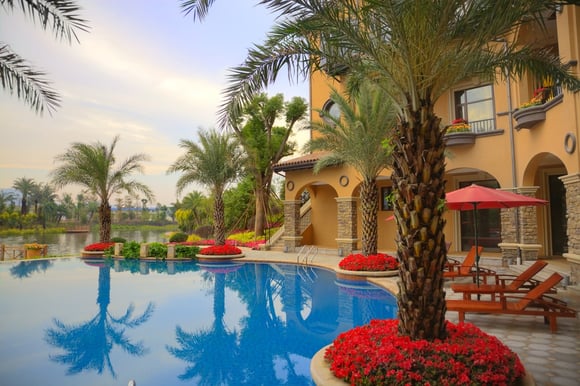 Within today's competitive HOA community marketplace, first impressions are everything. Partnering with a top-notch HOA landscape company can allow you to boost your property's curb-appeal, ensure that long-term maintenance will always be on-point, and that property value and aesthetics will only increase over time. All of these factors certainly sound fantastic, but how does one pick the right HOA landscaping company in the first place? To hire the best HOA landscaping contractor with total confidence, follow these simple steps:
Look For Unparalleled Expertise
A highly experienced commercial landscape contractor should never be tongue-tied when it comes to going into detail about all-things green. They should be confident to discuss the micro-climate and aspect of your property; the plant species that will best suit that unique environment; and how they would plan, implement, and maintain your green spaces. A trustworthy commercial landscape designer should be ready to take you on a journey through sustainable landscaping options, water conservation, and the architectural rewards of various tree types.
The right HOA landscape specialist should also be able to make instant suggestions as to how to improve your property aesthetics, and which elements may be letting the side down in terms of ongoing maintenance costs. Considerations that may come up include converting water thirsty lawns, implementing drought friendly landscaping, introducing smart irrigation, and favoring native trees. If a potential HOA landscape maintenance company can't talk the talk, they certainly won't walk the walk—so don't be afraid to express your curiosity!
Expect A Professional Approach to Collaboration
A huge amount can be deduced about a company from the way they interact with their clients. As such, a first-stop indicator of the worthiness of any HOA landscape company is whether they assign a dedicated account manager. Crucially, the account manager in questions should be seasoned, responsive, and pro-active in their interactions. They should cultivate a clear and continuing understanding of your unique goals and ambitions, because this is the best foundation from which to support your future achievements.
All HOA community managers are constantly juggling a broad array of responsibilities. The right HOA landscape contractor should take the relevant portion of such responsibilities from your shoulders, providing year-round support, with consistent communication at every step of the journey.
Don't Settle for the Inexperienced
An outstanding HOA landscape maintenance service can only be delivered when extensive local understanding is at hand to draw upon. Not only should the right landscape company offer a professional team with a breadth of experience between them, but also specific local knowledge. Without an informed approach, the bay area climate is particularly unforgiving. As such, a deep awareness of local weather patterns, indigenous and comparable plant species, and how each unique property's qualities are likely to impact its demands is a must.
Don't settle for those without the relevant know-how. When vetting HOA commercial landscape companies, don't be afraid to delve into credentials, accreditations, licensing, equipment, specializations, and experience. Asking for references is always appropriate, and visiting nearby properties to get a sense of what the company in question can achieve will help you better understand their skill set.
Look for Creative, Innovative, and a Smart Drought Design
While much of comprises contemporary HOA landscape design is practical, the importance of artistry and water efficiency should never be forgotten. Composing breathtaking outdoor areas that offer instant wow-factor to whoever encounters them means knowing how to design and implement a living and evolving greenspace that looks spectacular through every season.
A seasoned landscape designer—core to any commercial landscape design company— should be able to envision striking landscaping that elevates your property's best features while concealing its less aesthetic areas; always created with drought resistance in mind. Through- flow of foot-traffic should be core to the creative process, as well as details such as nighttime lighting, privacy screening and irrigation infrastructure.
Textures, depth, fragrance, and flowering should all be considered within outdoor areas that will be encountered by HOA residents all year around. A comprehensive understanding of bay area soil types, solar radiation, wind, and weather patterns should inform both planting, and the overview of maintenance expectations that you are provided with.
With that climate awareness, and bay area drought in mind, your HOA landscape company should be ready to guide you in selecting plant types that will be verdant and pest resistant on your property— ready to stand up to the test of time, so that you can focus on the many other aspects of delighting your HOA community.
A Professional HOA Landscape Company that Delivers
At Flora Terra, clients enjoy access to over 100 years of combined experience, within a team that features a phenomenal breadth of expertise, and collectively a true passion for landscaping. Integrity is always our guiding principle, and the caliber of landscaping professionals that make up our numbers stands as testament to that consistent dedication.
We work with many outstanding community management companies throughout the bay area, we ensure that each enjoy a highly personalized service at every turn. With an ever- ready and expansive selection of specialist HOA landscaping services in our toolkit, we provide a single destination for the full spectrum of your commercial landscape maintenance needs.
From a landscaping perspective, we make it our business to know your business. Trust Flora Terra to attract new tenants, boost pride of ownership, enhance curb-appeal, and add real estate value—All while lightening the load of association managers and board members.
Are you ready to learn more? Contact the Flora Terra team today!
Call 408.275.1200 or Click Below.

ABOUT US
FloraTerra and our affiliates are conveniently based throughout the greater bay area. As a leading commercial landscape company, we specialize in corporate campus developments, commercial office, retail centers and common interest developments. Since 1998, our company and partners have installed and maintain some of the most prestigious commercial developments throughout the Silicon Valley.
WE GO WHERE YOU GO!
| | | |
| --- | --- | --- |
| Santa Clara County | Alameda County | San Mateo County |
| Silicon Valley, CA | Fremont, CA | Palo Alto, CA |
| San Jose, CA | Newark, CA | Menlo Park, CA |
| Santa Clara, CA | Union City, CA | San Carlos, CA |
| Sunnyvale, CA | Hayward, CA | Belmont, CA |
| Mountain View, CA | San Leandro, CA | Redwood City, CA |
| Cupertino, CA | Alameda, CA | Foster City, CA |
| Milpitas, CA | Dublin, CA | Burlingame, CA |
| Morgan Hill, CA | Pleasanton, CA | Daly City, CA |
| Gilroy, CA | Livermore, CA | South San Francisco, CA |