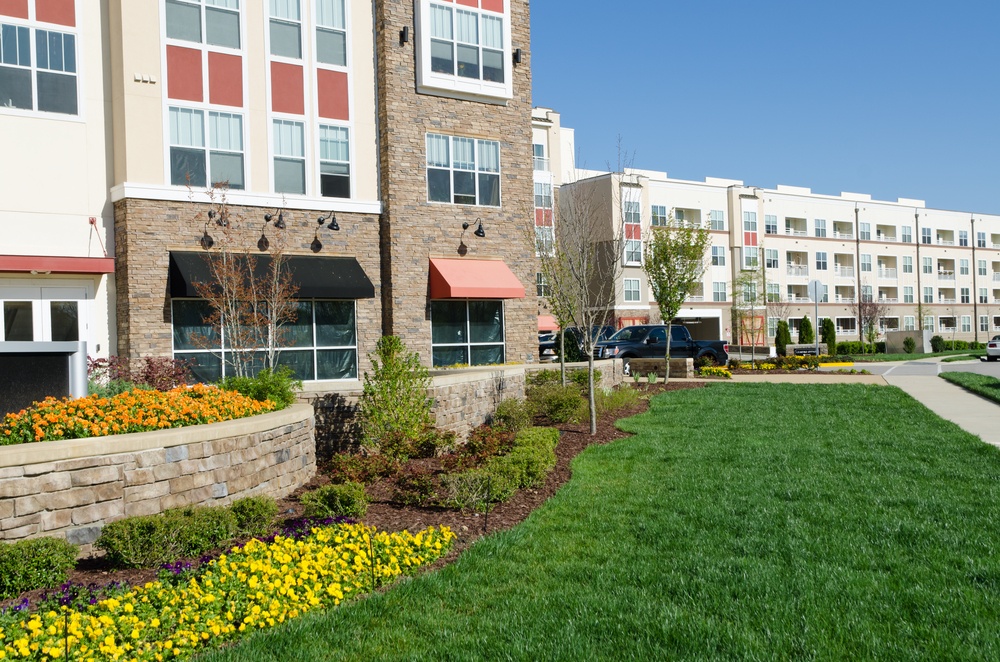 As the greater San Francisco Bay area endures swelling amenity costs and increasingly unpredictable weather patterns, it's clear that a change is coming in the way that commercial landscapes are cared for. While this reality might leave some community managers feeling anxious, there's no need to worry about lost potential of your HOA outdoor spaces.
In fact, by adopting the forward-thinking bay area commercial landscape management approaches of tomorrow today, an exciting array of advantages can be captured, alongside resilience that will carry verdant green spaces forwards—whatever the weather! So, what are the future techniques at our fingertips? Read on to discover new approaches to landscape maintenance, ensuring verdant, beautiful, and enjoyable green spaces that are ready to stand up to the elements.
It's Time for High Water Use Plants to Go
When taking in an undulating and abundant green landscape, it likely won't occur to the viewer that some of those lush plants are exceptionally thirsty, while others have evolved to use water far more adeptly. Those plants within your HOA landscape that draw a heavy daily dose of H2O are the reason why extensive—not to mention expensive—watering has become a cost that won't quit. In the past, there was a tendency to choose classical plants that thrive in a more temperate climate, but today these lead to large water bills, and even then, may let the side down within any exterior HOA presentation.
Happily, water efficiency-minded HOA landscaping companies are well versed in an array of alternatives. These will include fantastically drought tolerant species that offer interest that is architectural, fragrant, textural, or vividly colorful. There is simply no need to struggle on with poorly suited plant placements.
Getting Smart About Water Conservation
Between dated public agency and municipality infrastructure, and the push-pull of water purveyors keen to maintain their profit margins, we can be fairly certain that water costs are unlikely to fall in our region any time soon—in fact, they are most likely to continue increasing. While this might draw a sigh from those overseeing HOA landscaping, there is much that can be done to offset increasing costs today and tomorrow.
These days, water conservation is a big deal for many Silicon Valley property owners and managers – particularly in many cities in the Bay Area where water restrictions and the cost of water will continue to escalate. Upgrading to more water efficient irrigation systems can provide a speedy return on ROI, and reduced costs moving forwards. To give a sense of the potential, did you know that traditional sprinklers are only around 50% as efficient as modern irrigation systems operating under the hot Bay Area sun? When direct-to-root drip irrigation is combined with smart controllers, watering can be far more efficient, while achieving 90% – 100% efficiency!
The place to start is with expert irrigation design and installation . This will involve assessing current infrastructure—including any expensively failing elements—and laying out a clearly costed plan for potential irrigation upgrades, including anticipated investment returns and rewards. When times get tough, it's smart to get strategic!
Placing a Spotlight on Protecting Our Soil
When we prevent the sunlight hitting the soil, four things happen. One is that far less water is lost to evaporation. The second is that irrigation is able to penetrate, preventing plants from rooting upwards. Thirdly, soil erosion is reduced, keeping precious nutrients in the ground. Finally, weed growth is suppressed, reduced landscape maintenance costs.
Trends for water conservation in the bay area are huge, one of the most magical resources in the contemporary commercial landscaping toolkit that serves this particular function is mulching. A thick layer of mulch will protect the ground and its resident plants through the driest of summers and the heaviest of rains. Meanwhile, further resources include the use of gravel, synthetic turf, and hardscape to avoid bare and barren areas—or in place of high-maintenance lawn. Gravel is not only sustainable but also porous, capturing rainwater rather than allowing it to run off. Your HOA landscape contractor in Redwood City Ca will be able to assist with the best option for each unique landscaping aspect.
Transitioning From Traditional Lawns to Water Efficient Spaces
While the lawn might seem classical to some, the truth is that they are not well suited to the Bay Area climate. There can be no doubt that neither a disheveled looking lawn nor a large maintenance price-tag represent great value in terms of HOA landscape maintenance! The reason why these are likely outcomes with lawn is that turf roots only extend down an average of 2" in depth. Such a shallow root structure is simply not equipped to stand up to hot wind and sun.
Today, drought tolerant grasses are gaining popularity and demand for their low maintenance qualities, using a combination of drought tolerant grasses and ground cover plants—perhaps in combination with the aforementioned soil-protective surfaces—maintenance costs will inevitably shrink. What's more, because of the sturdy nature of climate appropriate plants, landscaping is certain to look more beautiful, more abundant, and better suited to its location. The use of fertilizers and pesticides can also be reduced, creating an inviting outdoor area that residents are certain to revel in.
Clever Use of Color, or the Art of Flower Power!
Few things can compete in bringing smiles to the faces of HOA residents than a brightly blossoming scene outside their window. However, the traditional practice of planting short-lived displays of high-maintenance annual blooms is becoming increasingly dated. Instead, many are resorting to affordable commercial landscape maintenance.
Opting instead for the intelligent placement of verdant, drought tolerant perennial flower power is a far better choice—and with good planning, year-round flowers can be the result. When desired, these can be complemented with the possible enhancement of additional strategic displays, implemented in proximity to signage, entrances, patios, and pool areas. There is no reason why color can't be both visually spectacular and financially smart!
FloraTerra is always excited to boldly lead the way in the next evolution of HOA landscape maintenance services. If you are ready to take advantage of embracing tomorrow's landscaping solutions today, then contact our team to learn more.
Are you ready to embrace the next evolution in water conservation?
For more Information, Call 408.275.1200 or Click Below.

ABOUT US
FloraTerra and our affiliates are conveniently based throughout the greater bay area. As a leading commercial landscape company, we specialize in homeowners associations, condominiums, corporate campus developments, commercial office, retail centers and common interest developments. Since 1998, our company and partners have installed and maintain some of the most prestigious commercial developments throughout the Silicon Valley.
WE GO WHERE YOU GO!
| | | |
| --- | --- | --- |
| Santa Clara County | Alameda County | San Mateo County |
| Silicon Valley, CA | Fremont, CA | Palo Alto, CA |
| San Jose, CA | Newark, CA | Menlo Park, CA |
| Santa Clara, CA | Union City, CA | San Carlos, CA |
| Sunnyvale, CA | Hayward, CA | Redwood Shores, CA |
| Mountain View, CA | San Leandro, CA | Redwood City, CA |
| Cupertino, CA | Alameda, CA | Foster City, CA |
| Milpitas, CA | Dublin, CA | Burlingame, CA |
| Morgan Hill, CA | Pleasanton, CA | Daly City, CA |
| Gilroy, CA | Livermore, CA | South San Francisco, CA |